In addition to all the great features in Office 365, governance plays an important role, especially for large organizations. Richard Campbell, runasradio.com, interviewed Martina Grom recently about governance and tools in Office 365. The interview is available as podcast here.
In this podcast, Richard chats with Martina about the various aspects of Office 365 that affect the way users collaborate with each other and get work done. There are bunch of great tools inside and outside of Office 365 to enable Governance. Check out the latest Office 365 Governance podcast with Martina Grom at runasradio.com.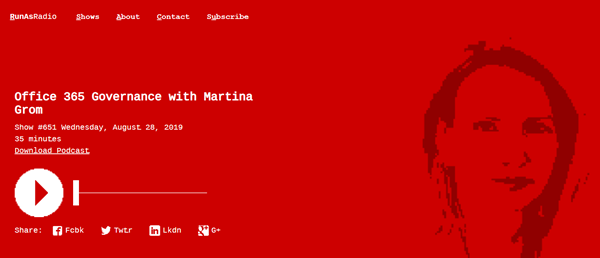 The link leads to a 35 minute podcasts. Enjoy the at show!
Categories: Azure, Blog, Cloud, Governance, Microsoft, MVP, Office365, atwork
Source: https://blog.atwork.at/post/Office-365-Governance-with-Martina-Grom