Recently, Microsoft launched the Microsoft Regional Directors website at rd.microsoft.com. Finally!
Our CEO, Martina Grom, was awarded as Regional Director in 2015, see here. So we are more than happy that there's now a place where Microsoft informs officially about the Regional Director program.
Check it out at rd.microsoft.com.
Since it's not well known, what the Regional Director award is about, there's a FAQ list at rd.microsoft.com/FAQ.
The most frequently asked questions are, if Regional Directors (RD's) are employed by Microsoft, how they are selected or if they are also MVP. The FAQ's answer these questions clearly, see the statements summarized here:
The Regional Directors program consists of 150 of the world's top technology visionaries.
Regional Directors are not employed by Microsoft.
Regional Directors act in a non-paid advisory capacity with Microsoft.
Regional Directors are hand-picked by Microsoft and are based on a rigorous set of evaluations.
Regional Directors are representatives of developer, IT pro, and strategic technology.
Regional Directors nominees can only come from Microsoft senior-level full-time employees or other RD's.
A Regional Director's term is two years.
While many Regional Directors are also MVP, RD's do have cross platform architect skills while MVP's are technical experts in a specific topic. So it's hard to maintain both credentials as each has different demands. Since only 150 (!) persons hold the RD award title world wide this is a VERY exclusive group which also gets a lot of attention by Microsoft. In comparison, the MVP program has about 3.500 technical experts world wide. In Austria, we are currently 24 active MVP's. As an independent expert in Microsoft technologies, you can't reach more than a MVP award or a Regional Director award. These are the highest acknowledgments by Microsoft for being an expert.
On the two-page website, Microsoft informs about the Regional Directors program and there's a search function included. You can find RD's easily and view the result in a map or in a list. When clicking on a person, there's a link to the about.me page of the Regional Director, for example Martina Grom.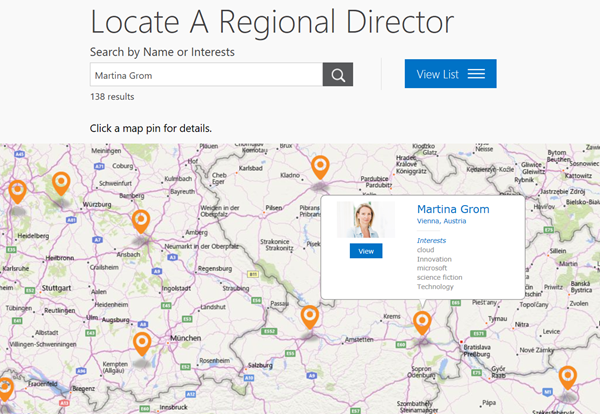 We are proud that Martina Grom is one out of two Regional Directors in Austria.
Rainer Stropek is the second RD in Austria. In the past, Christian Nagel held that award for about a decade.
We also congratulate our MVP colleague Carsten Rachfahl for being awarded as Regional Director in Germany recently.
Check out the Regional Directors website at rd.microsoft.com!
Categories: General, Blog, English, Microsoft, MVP, atwork, Social
Source: https://blog.atwork.at/post/2016/10/23/Check-out-the-new-Microsoft-Regional-Directors-website