Last week the second Office 365 Konferenz (office365conferenz.net) took place from 8th to 9th of January 2016 in Cologne. With about 120 attendees the event was fully booked (again).
The Conference
Well, this was the second Office 365 Conference in Germany - from the community for the community – which offered many interesting sessions with well-known international speakers.
We would like to point out some topics worth mentioning about this conference:
This was the second, larger Office 365 Conference in Germany. (See infos in german about the first conference here: Wrap-up Office 365 Konferenz 2015 in Köln.)
The event war organized by members of the MVP community.
There were 32 sessions and one keynote
Participation was cost free – thanks to our sponsors!
Although it was a community event, almost all registered attendees appeared.
There was a great interest in the conference and the registration of the first 80 seats was booked within some hours after opening the registration. There were almost 80 people in the waitlist which was gradually released till the conference date.
This year we had 10 english sessions and more international speakers and a broader range of topics. We hope you liked that.
Networking was a big part at the conference.
We are curious about the feedback provided by the mobile app… will post this here when it's available.
I would like to give you some impressions around the conference. So, here we start!
Organization
We had the same organization team with a handful of MVPs as last year: Martina Grom, Toni Pohl, Patrick Lamber, Raphael Köllner, Kerstin Rachfahl and Michael Kirst-Neshva (see team).
We really appreciate the great support and funding of Microsoft and our supporters Elmar Witte, Michael Schikorra and Ragnar Heil.
There were a lot of emails, virtual Meetings and Calls necessary for organizing this event. Internally we used OneNote, SharePoint Online and mostly a closed Yammer group in the german speaking MVP Yammer Network to coordinate.
It started with organisation of sponsors and contacts, catering, website, a new Call for Papers system with SSO, interfaces, Newsletters, Slidedeck, Bags and so on.
So thanks to all who helped making this possible!
The location
The two day event took place in the Microsoft Office in Cologne, Holzmarkt 2a, 50676 Köln which is a cool location directly on Rheinau Hafen (the small harbour is part of Rhein river).
Although the location is great, it's not perfect for so many participants since we had to split the event in the 4th and 5th floor. There were two session rooms in 4th floor and one session room in 5th floor, with a window wall with great view over the harbour (as you can see on the two photos from Twitter – thx to @ragnarh and @poschauko). We had two days of sunshine, nevertheless the cost free event was full.

The Content
The keynote delivered by Michael Schikorra was packed.
The 5th floor houses the exclusive Microsoft Executive Briefing Center with a large terrace (which was perfect for smokers), a large video wall, Microsoft Hardware and one session room. The room for Track 3 had more meeting character and was very convenient.
We were very happy that we could used the whole 4th and 5th floor for the conference.
Thx Microsoft and the team!
The Agenda shows all the sessions delivered on day One…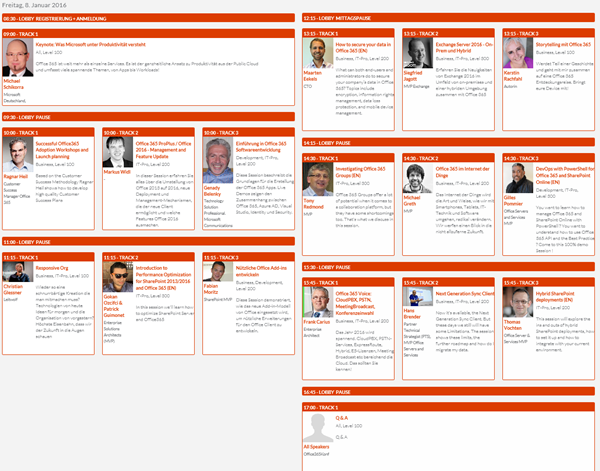 …and day Two.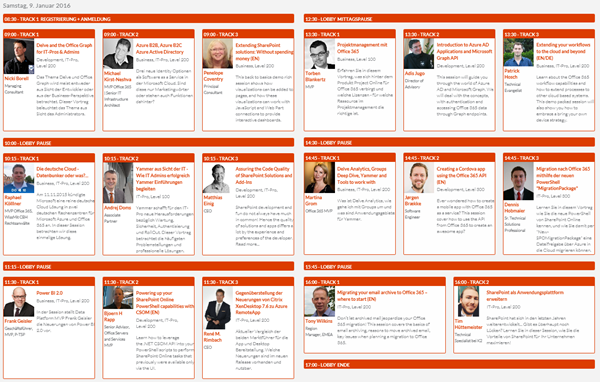 …and some session snapshots (click to enlarge).
Slide Decks
We are collecting all session slides and will send the link to all presentations shortly!
Thanks to all!
We would like to thank all attendees, speakers, sponsors and all helping hands for making the second Office 365 Conference such a huge success (again)!
Martina and me want to thank our team, especially Patrick Lamber for his continuously support, Kerstin Rachfahl for the great self made speaker presents and the food and Jenny for taking the event photos (which will be available shortly as well).
Also many thanks to Ana and Jaqueline from the Microsoft team for giving a warm welcome to all participiants and for organizing everything on site!
Also thanks to René Rimbach, Daniel Lehner and Maik Reufer – just to mention some - and all the other helping hands for supporting.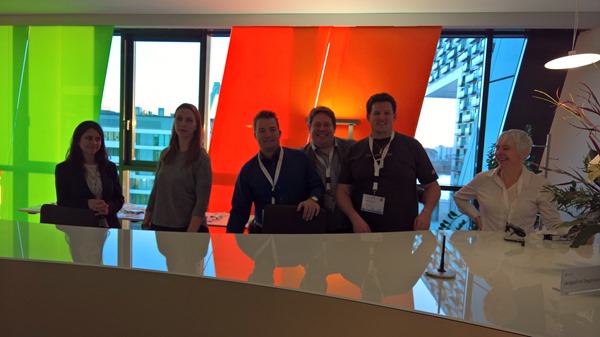 Thanks to the Speakers
We got about 100 session proposals for this conference. As content board (the organizers) we have not made our decision easy... We had to select 32 sessions we thought would be inspiring and interesting. We hope you liked the content and there was something for everyone.
The speakers delivered their session for free and in their free time. We had speakers from Germany, Austria, Italy, Norway, France, Belgium, Netherlands, Ireland and the UK (hope I didn't forget anything?).
So many thanks to all our speakers, you rocked! We hope you liked the event!
Thanks to our sponsors
Thanks Microsoft for being Premium Sponsor and especially Elmar Witte for supporting our community event in that great way.

Our Gold Sponsors made it possible to execute this event cost free for all participants and for the speakers.
Many thanks to Archive360, AvePoint, K2, Nintex, netmail and Rencore for supporting the community!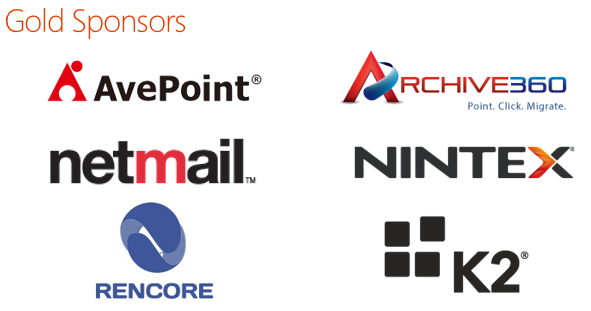 Also thanks to our Silver Sponsors who made this event available with their personal commitment and thanks to Medialessen for providing the Mobile App.
Internally within atwork I would like to thank our colleagues Doris Schlaffer for the organisation and all the graphics and handouts and Ivo Pavlovic for the technical imlementation of the event system and the website.
Without the Sponsors the Office 365 Conference would not have been possible, so again thanks a lot for your support!
Feedback
On Site we got a lot of feedback from attendees, speakers and sponsors. We will combine this with the session and event rating and post this here in an extra blogpost shortly.
If you want to give additional feedback or to participate in the german speaking Yammer-Group in the Office 365 Network please follow this link: Office 365 Usergroup DACH (Germany, Austria, Switzerland).

Mentions in Twitter
See a Twitter Statistics with the hashtag #Office365Konf in #Office365Konf 2016 Twitter Statistics and some impressions in this graphics.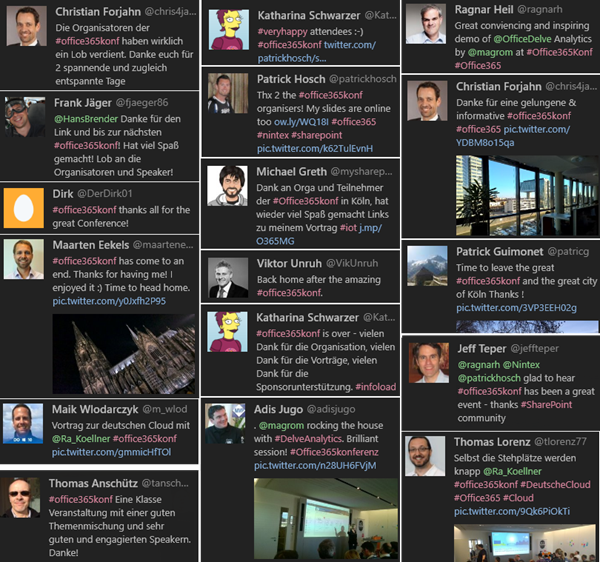 More Mentions in the web
... and some more impressions here (to be continued):
Summary
We got a lot of positive feedback already and would like to encourage you to send us feedback via the mobile app (if you haven't rated the sessions untill yet). Your feedback is very valuable for us. Thanks!
We from atwork (@magrom and @atwork) had a great time at the conference and hope you liked it too!
Categories: Event, English, Microsoft, MVP, Office365, Office, atwork, Social
Source: https://blog.atwork.at/post/Office365-Conference-2016-Wrap-up