The year comes to an end and we had our last event at Modern Workplace Conference Paris 2019 this week. See a short recap here.
#MWCP19 started with a workshop day on Monday, Dec. 9th, followed by two conference days from Dec. 10th to Dec. 11th 2019 with a bunch of interesting session in the Centre de Conférence Microsoft à Issy les Moulineaux.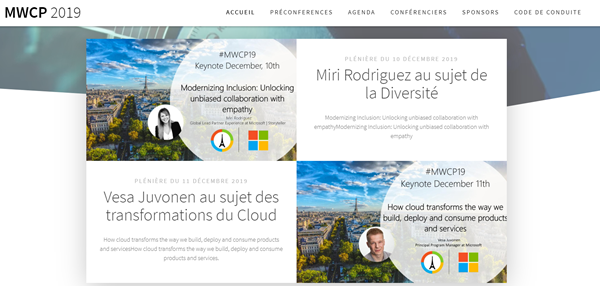 The agenda offered four tracks. The workshops and sessions were mixed, some in English and some in French.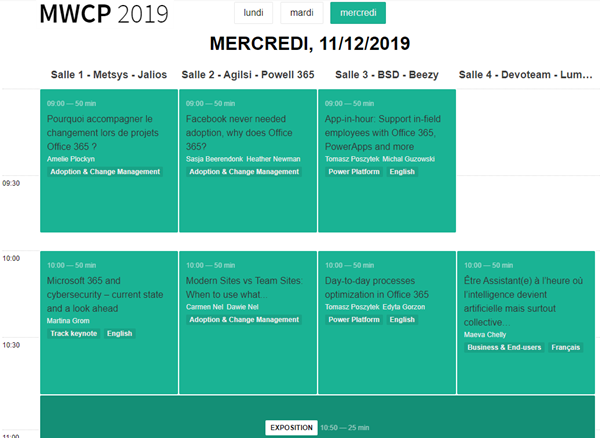 Martina and I had the pleasure to deliver these sessions:
Develop intelligent apps for the Modern Workplace with Microsoft Cloud Services, Toni Pohl
Microsoft 365 and cybersecurity – current state and a look ahead (track keynote), Martina Grom
Microsoft Teams and Office 365 Groups PowerShell MasterClass, Martina Grom and Toni Pohl

See some visual impressions of the event at this Sway:
I loved the "plant a tree" initiative by the aOS community! Thanks for planting 180 trees!
See more at www.reforestaction.com and @reforestaction and support this initiative!
Thanks to the organizers from aOS, Patrick Guimonet, Gokan Ozcifci, Estelle Auberix, Nathalie Guimonet, Sébastien Paulet, Sencer Demir, the sponsors who made that event possible, to all speakers and to all participants who made this event successful!
We had a great time at the conference in beautiful Paris! Thanks for having us. We are looking forward to the next aOS community events!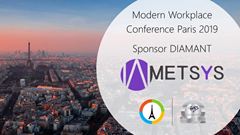 PS: Being in Paris this year was challenging with public transportation since there´s (still) a mass transport strike happening. The background for that, taken from various websites is: "The government plans to merge France's current 42 different pension schemes into one state-managed system, and the Unions protest against it. The Unions say introducing a single system will mean millions of workers will end up working beyond the legal retirement age of 62 or receiving a far lower pension.". Only Metro line 1 and 14 were operating in the inner city (and we could use it only once, see more here). This resulted in very heavy traffic on the streets. So, this was a very unusual experience in Paris, since we used to go everywhere by Metro or RER. We had to use Taxi and Uber a lot and every ride took forever. Stressful travel, but it still worked. Anyway, we are looking forward to be in Paris again when everything is back to normal. Good luck!
Categories: Event, Azure, Cloud, Office365, Microsoft365, Microsoft, MVP, atwork
Source: https://blog.atwork.at/post/Impressions-of-Modern-Workplace-Conference-Paris