We are very happy to announce that Dominik Hoefling was awarded for the 1st Microsoft MVP Award for Office Servers and Services!
Dominik has expertise in Microsoft Office 365 and is a recognized expert, MSL (Microsoft Learning) author, blogger, and conference speaker.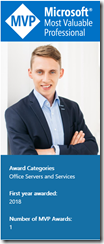 Dominik (@DominikHoefling) is a Senior Consultant for atwork deutschland GmbH. He currently works in Microsoft technologies, especially in Microsoft Exchange, Exchange Online and Office 365. He holds several Microsoft certifications including MCSA for Office 365, MCSE Messaging and MCITP Enterprise Administrator for Windows Server. Dominik also write technical blog posts for international companies and various topics about Exchange Hybrid deployments and Office 365.
We at atwork are proud to have four MVP's in our company and we are collaborating with other MVPs and experts as well in various projects. The MVP program connects many of our experts to deliver real solutions to our customers.
Congrats to Dominik and thank you for your great work for our communities!
Tags: office365, MVP, Microsoft, Exchange
Categories: MVP, Microsoft, Office, Office365, atwork, English, Exchange
Source: https://blog.atwork.at/post/1st-MVP-Award-for-Dominik-Hoefling