Since Microsoft´s Azure Active Directory (AAD) is constantly evolving it´s interesting to see the current status of features. Right now we want to point out the functionality of Azure Active Directory Editions in MSDN by December 10, 2014.
AAD comes in three flavors: Free, Basic and Premium (see also here).
Companies are often interested in relieving their IT with features like "Self-service password reset for users" (SSPR). In that MSDN article we see the support for the SSPR-feature for users in the three Azure Active Directory Editions: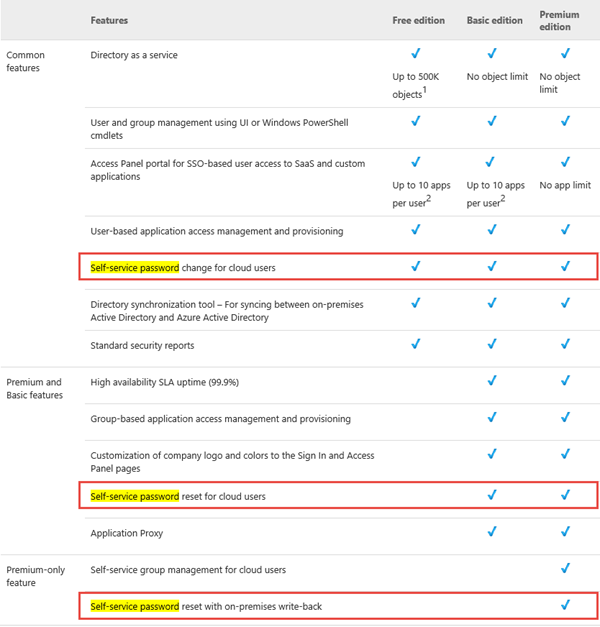 The summary:
Even in AAD Free edition cloud users can do a self-service password change anytime (but no password reset).
In AAD Basic and Premium cloud users can reset their password themselves (self-service password reset), using the same sign in experience they have for Office 365. A feature to come will be to add security questions for self-service password reset.
In AAD Premium there will be SSPR also for on-premises users (with a write back mechanism). So in future - with AAD Premium - not only cloud users can reset their password but even users who are synced from a company´s Active Directory (AD). For that DirSync needs to reach back into a local AD (or better: gets information for SSPR from the cloud) to reset a user´s password.
The prices of AAD Basic and Premium are not public available, you have to "Contact your Enterprise Agreement representative" (http://azure.microsoft.com/en-us/pricing/details/active-directory/).
Tip: With our Office 365 Add-On product Delegate365 users can perform a self service password reset for users without additional costs.
Categories: Azure, English, Developer, DirSync, Cloud, Microsoft, Security, Office365, Delegate365
Source: https://blog.atwork.at/post/Self-service-password-reset-for-users-in-Azure-Active-Directory-Editions