Delegate365 has continued to evolve over the past few years. See the timeline of the Delegate365 versions in this graphic.
atwork started the development of Delegate365 (www.delegate365.com) in early 2013 as an Add-On for Office 365. Many functions have been added since then. Here you can see the graphic of the Delegate365 versions timeline as of today (click to enlarge).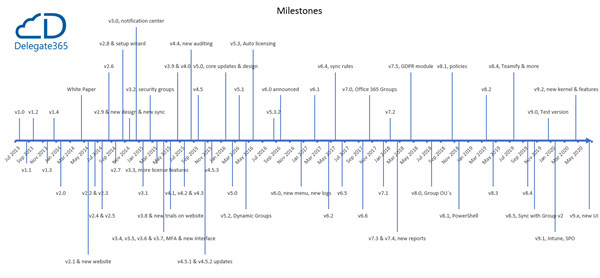 On average, a new Delegate365 version is deployed every 3 months. Delegate365 is operated as SaaS, so updates usually happen automatically. For versions that require additional permissions, a Delegate365 administrator must run a setup once on request. You can find the Delegate365 version details in the corresponding articles here. The current version is Delegate365 v8.5. The next update will be Delegate365 version 9.1, planned for February 2020.
Happy delegating with Delegate365!
Categories: Delegate365, English, Microsoft365, Office365, atwork