From 24th to 28th September, Microsoft's largest and fourth Microsoft Ignite conference took place in Orlando, Florida. #MSIgnite is the largest and leading event for IT-Professionals, Developers and Decision-Makers in the Microsoft universe. With approximately 30,000 attendees and about 700 breakouts and a lot of theater-sessions , a large expo and a lot of networking, this event was huge. We were proud to be part of the conference and we have collected some of our impressions here.
From our company, atwork, a bunch of colleagues attended and Martina Grom and Toni Pohl were speakers (see our session announcements here). As last year, Florida did welcome us with hot and humid weather with a lot of sunshine and we could extend our beautiful and hot European summer time for another week. On Saturday, after a morning run (hello jet-lag), we took a day off and drove to Kennedy Space Center and Cocoa Beach, on Sunday the conference MVP pre-day started and we enjoyed to meet our colleagues from all over the world and to learn the latest news and technologies. We, and I guess all participants, had a busy week!
I enjoyed this year's conference even more than last year. Imho, the organization was optimized and the feedback from last year was heard. The OCCC South building was used only on Monday for the keynote and some side sessions. The Expo hall was in the same West building as all the sessions, this reduced the walking distances a lot. So, I didn't even reach my daily step goal as easily as in 2017… The food was ok, even pretty ok at the last conference days and even the Microsoft WiFi worked (not for the keynote and in the Expo hall, but the rest area was covered well). Just, we heard, so many interesting sessions took place more or less at the same time, but here the webcasts come in. Too much content for just a week. To be honest, I used the conference mostly for networking and did not attend many sessions, but that's what such an event is for, right? Well of course, there were parties too, to relax and for connecting with friends and the product groups. We enjoyed these very much.
As at most community and Microsoft events, our friends at TyGraph created a Power BI report out of the tweets with hashtag #MSIgnite which shows the impressive reach in Social Media. See it here.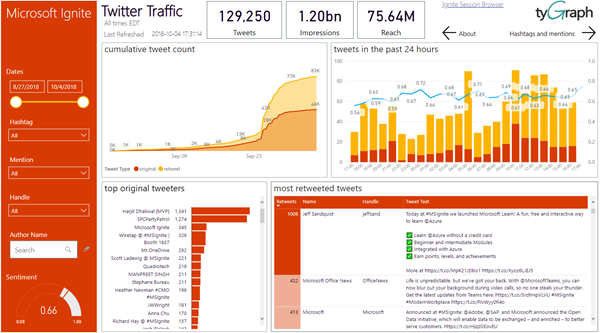 Many of our colleagues published their impressions and summaries in their blogs. Just to reference our session and some blog posts and sources:
We enjoyed being part of Ignite. We will use next weeks and months to watch Ignite-webcasts and to learn and deliver new technologies.
After Ignite is before Ignite… the next Ignite will happen from 4th to 8th of November 2019 in Orlando! The preregistration is already open.

Categories: Azure, Cloud, English, Event, Microsoft, MVP, Microsoft365, Office365, atwork
Source: https://blog.atwork.at/post/Impressions-of-Microsoft-Ignite-2018