This week Martina and I have been part of the aOS community event in Aix-en-Provence in South France. See our session presentation and some snapshots of the event here.
The aOS Community organizes and supports all types of events promoting the sharing and exchange of Microsoft technologies in various communities in public meetings, conferences and online meetings targeting primarily French speaking countries.
The event took place in Aix-en-Provence on 6th September at the campus of YNOV, a school building with perfect infrastructure for such an event (rooms, space, seats, projector, aircondition and fast WiFi). The event web page is Journée aOS Aix en Provence.
There were two tracks, see the agenda below. The keynote started a little bit delayed, so all sessions started about 15 to 30 minutes later.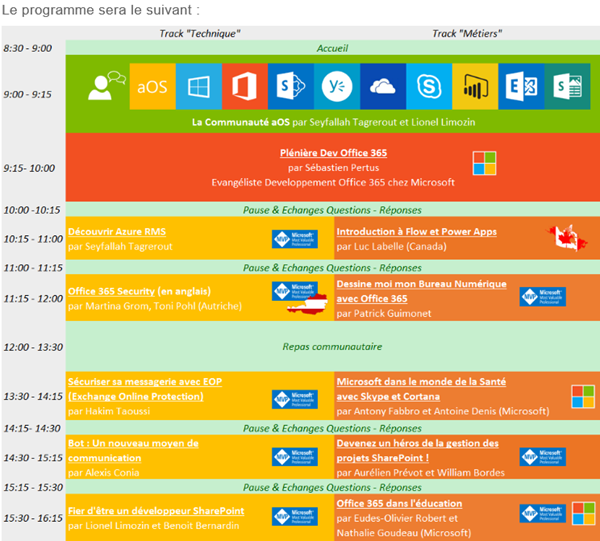 Find our session presentation about Office 365 Security on docs.com.
See some snapshots here. The Twitter hashtag of the event was aOSaix.
Patrick and aOS, many thanks for the organization and the invitation to this great community event!
Hope to see you all again soon. Community rocks!

Categories: Azure, Cloud, English, Event, Microsoft, MVP, Office365, Security, atwork
Source: https://blog.atwork.at/post/Snapshots-of-aOS-community-event-in-Aix-en-Provence