One thing is for sure - every day is a great day to learn something new from Microsoft Teams' MVPs.
Within the latest episode, "Microsoft Teams' Most Valuable Professionals (MVPs)- Learn from the experts", you can learn from MVPs in the fields of planning, deploying, adopting, managing, and securing Teams.
Stephen Rose (@stephenlrose), Senior Marketing Manager at Microsoft Teams and host of the "Inside Microsoft Teams" series, invited several experts around the world share their favorite tips and tricks on Microsoft Teams.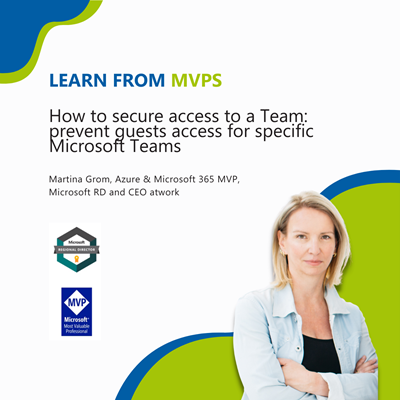 Our CEO Martina Grom (@magrom), Microsoft MVP Azure and Office and Services, was there and showed her tips and a live demo on preventing guests from being added to selected Teams within Microsoft 365 to properly control access.
Find more cool tips in this episode from Dan Rey, Darrell Webster, Graham Walsh, Laurie Pottmeyer, Nicolas Blank, and Rachel Heiss.
Thanks to Stephen for the opportunity to contribute and the fabulous Laurie Pottmeyer (@lauriepottmeyer), Senior Program Manager at Microsoft Teams Engineering, Quality & Customer Obsession Senior, who is the co-host and joined Stephen in this episode.
Watch now: Microsoft Teams' MVPs- Learn from the experts - Inside Microsoft Team - Microsoft Tech Community Resource Center
Read article: Inside Microsoft Teams, Episode 403: "Microsoft Teams' MVPs- Learn from the experts" - Microsoft Tech Community
Categories: Microsoft, MVP, Security, Microsoft Teams
Source: https://blog.atwork.at/post/inside-microsoft-teams-season4