It was a busy week! Ignite is the largest and leading event for IT-Professionals and Decision-Makers in the Microsoft universe. This year, the conference took place in Orlando, Florida, from 25th to 29th September. With approximately 30,000 attendees and about 700 breakout, a lot of theater-sessions  a large expo and a lot of networking this event was … big #dataoverflow. See my personal impressions here.
Welcome to Florida
After the first Ignite conference in Chicago in May 2015 and in Atlanta in September 2016, the event location this year was Orlando. From our company, atwork, five persons attended (see our colleagues Dominik, Andreas and Jens from Germany with the blue atwork T-Shirts below) and Martina Grom was a speaker. Florida did welcome us with hot and humid weather with a lot of sunshine and a bit of scattered rain showers – back in summer time. So, we used the weekend before Ignite for visiting a Disney Park and the Star Wars universe with our MVP pal Loryan. For us, the conference started on Sunday with a pre-day and a lot of technical information.
The pre-day was also good for preparation and setup, and to start social media activities around the conference #MSIgnite. So, the kickoff was more or less our selfie with Jeff Sandquist, magrom, atwork and Eric Overfield and from there it went…

At the pre-day and the community event afterwards, we ran into a lot of (MVP) friends and had a great time there.
The vision keynote
Microsoft Ignite started on Monday with Satya's keynote in the huge Orange County Convention Center in the South Concourse. As expected, the rush for good keynote-seats was immense. We were lucky to get seats in the front area from the techcommunity.microsoft.com "Microsoft Ignite 2017 Keynote VIP Sweepstakes" drawing and entered the hall shortly after 8:00 o´clock (start was at 9).

The vision keynote delivered familiar and new topics: Microsoft is continuing developing solutions for Mixed Reality and driving their cloud, to further improve productivity and security, to unite signals in Microsoft Graph, and to use Artificial Intelligence (AI). Again, "Microsoft 365" (Windows, Office365 and EMS combined) that was announced at Inspire this summer got attention. A new topic was the announcement for Microsoft's invest in Quantum Computing. For me, the scale of what Microsoft is doing is amazing. Besides the well known keynote speakers, Li-Chen Miller held a very refreshing presentation about LinkedIn-integration, Bing for business and Cortana. Not much product news, it was a vision keynote.
Sessions and logistics
The offer for sessions was huge – there are 748 videos available. So it was not easy to select sessions and to coordinate them in the time table, especially with the looong distances between the two conference centers West and South. Although there is a Skybridge that connects the two buildings, you had to calculate at least 15 minutes just for getting to the other center plus some minutes to find the room. So it was not wonder, that we and many other attendees made their 20,000 steps (about 10 miles) easily each day. Logistically, the South center was more for developers, while the West center was for IT-Pros and the expo hall was located in the South center. Meals were available in both buildings.
There's a very cool video made by Mayrmart showing a walkthrough of OCCC at Youtube.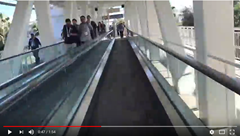 The snapshots here show the rush after the keynote and in the mornings, so during the conference the ways were free, but it was impressive anyway.
Sessions and event information were available on the myignite.microsoft.com website and with the mobile app which was very useful.
Sessions
One of my favorite sessions was the "unofficial Office keynote" on day two: "Accelerate your digital transformation with SharePoint and OneDrive" with "SharePoint-father" Jeff Teper, Dan Holme, Omar Shahine and Naomi Moneypenny. This session shared the latest innovations and roadmap for content management and collaboration and went perfectly.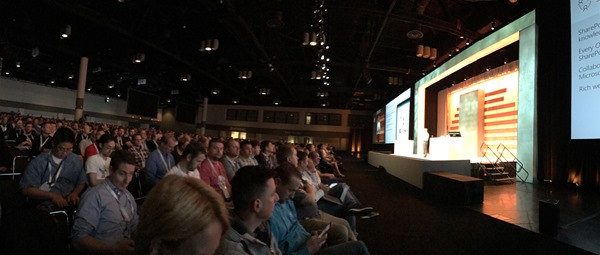 By the way, there will be a SharePoint Conference North America again in May 2018, and, of course, we can expect SharePoint 2019 (and the rest of the Office365 Office suite *2019) starting with May 2018.
Of course, we were proud to see Martina speaking about #Office365Groups. Martina delivered two Theater sessions, a Breakout-session and participated in a MVP panel.
Yammer MVP panel: The best, the worst, the why you need to try
See some snapshots here.
…and some more session snapshots.
I did not attend all sessions I planned. Instead, I used my conference time for connecting with other people and colleagues.
The expo hall
The expo hall with a lot of IT-companies and a large Microsoft area was a good place to catch up with speakers and the Microsoft product groups and to get informed about third-party solutions.
That's the benefit of being there, you find relevant persons and you can exchange contacts, feedback, tips and knowledge at the sessions and in the expo hall.
Networking and events
The essentials of a conference is people networking. So we had fun and had numerous talks with Microsofties, Product Group teams, colleagues, customers and attendees from all over the world at the conference and after-parties, most of them located right near the conference center in restaurants and bars on International Drive. Taking a Uber helped for other locations.
The meal hall in the West center hosted the "Hangout area" and was home for the community with a large MVP-wall and a topic for each day, as the "Office Community Day" on Monday and the "Azure Community Day" on Tuesday. So, this attracted a lot of attendees and MVP's to visit this special booth. It was not an easy task to find the own name in the list (I remember, it was sorted by first name).

The end
The conference ended on Friday after lunch. Most attendees left on Friday or took the chance to visit a theme park in Orlando. You could feel this was not a "full" conference day. Anyway, there were great sessions on Friday and I highly recommend to check out the videos of so many interesting sessions that took place on the last day.
Right in the afternoon, the beautiful summer weather paused and it rained heavily, but just for two hours. So, a few people took the chance have the weekend off or took some additional days in Florida as we did (we enjoyed the weekend).
Watch (and download) the sessions
You can watch all 748 sessions at myignite.microsoft.com/videos for free.
If you wish to download all or specific sessions with a script, our MVP colleague Michel de Rooij updated his PowerShell Download Script at gallery.technet.microsoft.com.
#MSIgnite
BTW, tyGraph did a cool MSIgnite Session Browser with Power-BI and a great Twitter Traffic Analysis at IgniteTweets.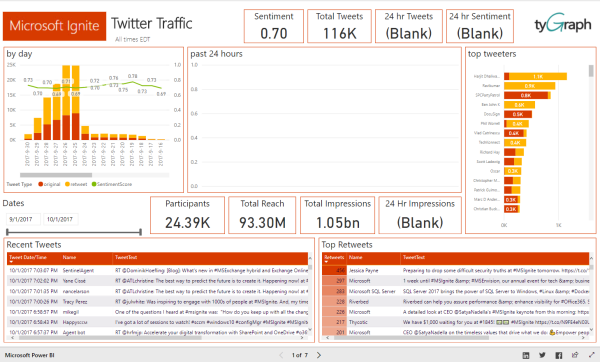 Check it out. There were more than a BILLION impressions with hashtag #MSIgnite. Wow.
I also found our social media activities - atwork and magrom - in the Top Tweeters list.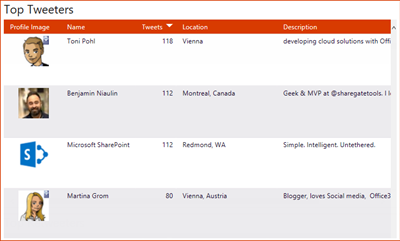 CU next year
For early birds: You can already pre-register for Ignite 2018 that will take place in Orlando again, from 24th to 28th September 2018.
So, it was fun to be part of #MSIgnite. Check out the videos! See you there next year!
Categories: Azure, Blog, Cloud, English, Event, Microsoft, MVP, Office365, atwork, SharePoint, Yammer
Source: https://blog.atwork.at/post/Impressions-of-Microsoft-Ignite-2017