This week, the Microsoft Tech Summit roadshow took place in Frankfurt, Germany. On two days, from February 21-22, 2018, the cost-free roadshow informed about topics from Azure to Microsoft 365. We were happy to be part of the Tech Summit. See some impressions here.
The keynote was delivered by Giovanni Mezgec, General Manager, Microsoft Office 365 Marketing and Corey Sanders, Director of Compute, Microsoft Azure. Then, there followed a variety of IT Pro Breakouts and Developer Breakouts. Beside the breakout sessions, Tech Summit provided experts panels, workshops and booths to directly get in contact with the Microsoft teams and third party vendors and to ask questions. See more details at the conference website at https://www.microsoft.com/de-de/techsummit/frankfurt.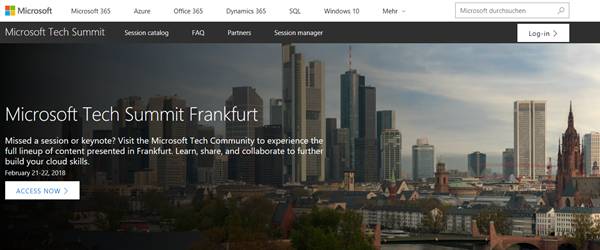 We from atwork were glad to contribute with a bunch of sessions along with speakers from Microsoft and some fellow MVP colleagues, see also our invitation at xing:
Inside Exchange Online - Siegfried Jagott, Ingo Gegenwarth
Running Exchange hybrid over the long term - Siegfried Jagott
MVP Theater: Demystifying Microsoft 365 - Dux Raymond Sy, Julia Eberl, Dominik Hoefling, Martina Grom
MVP Theater: Implement best practices with Office 365 Groups - Martina Grom
MVP Theater: Myth-busting GDPR in Office 365 - Nicki Borell
MVP Theater: How to prepare for GDPR - Dux Raymond Sy, Nicki Borell, Tobias Koprowski, Mark Longton
Build smarter apps with Office using the Microsoft Graph - Martina Grom, Toni Pohl
Connecting your company with Yammer: Vision and roadmap - Martina Grom
Office 365 Developer Platform Overview - Martina Grom, Toni Pohl
Get a catalog of all available sessions at Tech Summit session catalog.
We put together some impressions of that event with some of our snapshots in this Sway (switch to full screen mode in the top right corner and exit with ESC):
We enjoyed the event very much. It was great for networking and getting ideas and useful content about Microsoft technologies. As a point of criticism, I need to say that the location setup with the "clouds" (tents) was much too noisy for understanding well during the sessions. So, I hope, this will be solved better in future and there will be another room concept. Next to that, the cost free event delivered a lot of cool technologies and insights of the Microsoft cloud offerings. More than 2000 participants used the MS Tech Summit event to get the latest news and technologies. AFAIK, this was the largest Microsoft event this year in Germany.
See more impressions here:
We hope you enjoyed the Microsoft Tech Summit roadshow event in Frankfurt!
Categories: Azure, Cloud, Developer, English, Event, Microsoft, Graph, Microsoft365, Office365, Office, atwork
Source: https://blog.atwork.at/post/Impressions-of-Microsoft-Tech-Summit-Frankfurt-2018