We are proud to announce that we have reached a set of new competencies in the Microsoft Partner Program. atwork now owns five gold and two silver competencies in the Microsoft Partner Network.
atwork in Microsoft Partner Program
We are highly specialized in Microsoft technologies and are very successful in delivering consulting and software solutions to our customers and partners. So it´s great that our technical skillset is also represented in our new partner logo. Voila, here it is!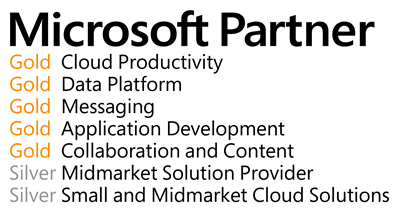 We own Gold competencies for Cloud Productivity, Data Platform, Messaging, Application Development and Collaboration and Content and Silver competencies for Midmarket Solution Provider and Small and Midmarket Cloud Solutions.
We are also proud to be the first (and only) Gold Cloud Productivity Microsoft Partner in Austria.
This clearly shows our specialization towards Microsoft Cloud technologies.
The new competencies exhibit our main business: We are planning and developing (cloud) solutions with Microsoft Office 365, Microsoft Azure and Web technologies around these services. We do Consulting, Architecture, Prototypes, Proof of Concepts and deliver Software development for Webs and Apps down to integration of backend systems and Web services.
atwork builds solutions for customers to help them automating tasks and enable the flow of data between systems. We also have expanded our set of standard products like Delegate365 and a lot of tools for provisioning and automating SharePoint, Exchange and Workflows.
The competencies are considered as certification that atwork has reached the highest possible set of technical skills to deliver solutions in these topics and the containing products.
Also MVPs
Additionally we have two Microsoft MVP´s holding the management of atwork:
Our CEO Martina Grom and our CTO Toni Pohl.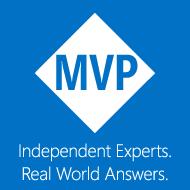 The MVP network gives us a great platform to exchange and collaborate with highly specialized experts in different projects. We often work closely together with our fellow MVP colleagues around the globe.
Some partner history
atwork and our whole team is committed using Microsoft technologies and products since the start of our company more than 16 years ago.
When looking back we started in January 1999 with atwork and had our first MCPs in 2002. About that time we became Microsoft Certified Partner – for three years. For curiosity see the partner badges of MCP 2003 to 2006 here (we did not keep them when moving with our office, just having these photos…)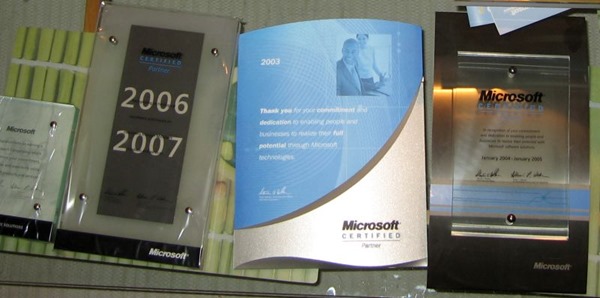 2006 was the first year when atwork reached Microsoft Gold Certified Partner level – we hold and expanded that highest possible status in the Microsoft Partner Program since nearly 10 years now!
So we have some of our badges since then on our wall (in our server rack room). Yes we also have a Private Cloud for some of our own infrastructure and our development projects and for testing environments but we are about to move more and more into the cloud…

To reach this status all our developers are certified solution developers (MCSD), our IT-Pros are MCSA, MCSE and so on and we are continuously investing in further education. We need to update our skills continuously. And we do that.
We are proud to have reached these competencies.
Anyway, finally our solutions and the collaboration with our customers make atwork and our projects successful!
Categories: English, Microsoft, MVP, atwork
Source: https://blog.atwork.at/post/atwork-receives-new-gold-competencies-in-Microsoft-Partner-program