Many of us have a Microsoft Account (MSA) that we use for Microsoft Azure or similar Microsoft services. But in reality, with Office 365, we're used to work with our Work-or-School Account (AAD). So, often it is helpful to forward all mails from one MSA to the work account primarily used. This can be accomplished easily!
Login to https://outlook.com with your MSA. In Outlook for the web, open the settings icon and click Options.
In here, you can select the Forwarding menu on the left and enter any email address (your work account email) to start forwarding messages as in the following screenshot.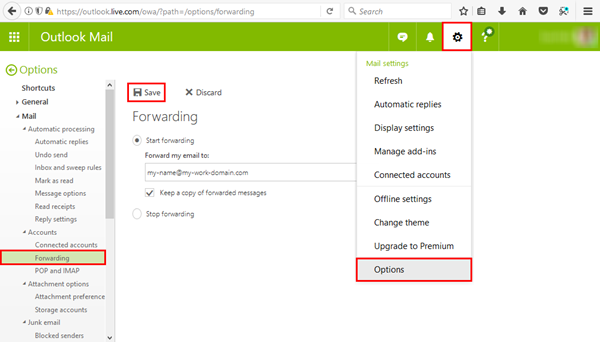 Simple as that. The forwarding works with a free MSA as well.
You now will receive all new emails sent to your MSA in your work account mailbox.
Categories: App, Cloud, English, Microsoft, Office, Office365
Source: https://blog.atwork.at/post/Forward-emails-from-a-Microsoft-Account-to-a-Work-Account