I recently wanted to share a Microsoft Power BI report with other users who only have the "Power BI (Free)" license. Well, with a "Power BI Pro" license, a report can be shared with other users. But I noticed that there are stumbling blocks when it comes to licensing. Here are my findings.
First of all, I'm not a licensing expert (and don't want to be one). However, I would like to ensure that as many users as possible can consume Power BI reports. With this goal in mind, I would like to share my experiences here.
Get and assign a Power BI (free) license
In many M365 tenants, the "Power BI (free)" license is available. Depending on the tenant type, the license can be added (purchased for free) at Microsoft 365 admin center - Purchase services.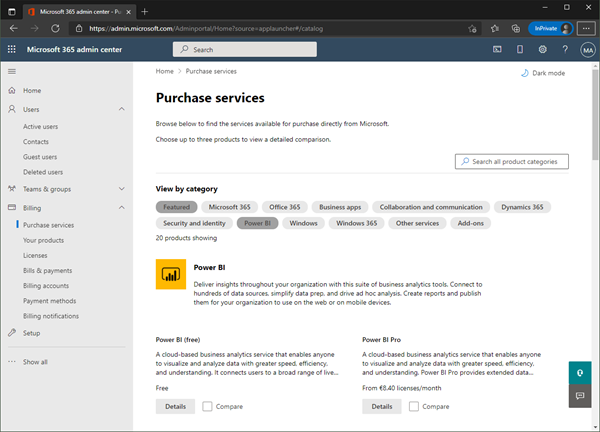 Then, this license can be assigned to users if needed. Check it out in your tenant at https://portal.office.com/AdminPortal/Home#/licenses.

What you can do with a Power BI Free license
The following table shows the comparison of characteristics between the Power BI (free) and the Power BI Pro version.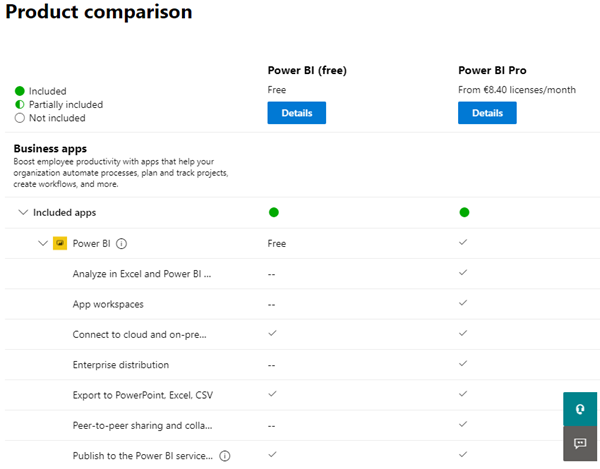 So, with the Power BI (free) license, users can connect to cloud and on-premises data, export to PowerPoint, Excel, CSV, and publish their own reports to the Power BI service and public websites. On the other hand, users with that free license cannot use App workspaces and cannot share reports with other users. Unfortunately, the users with the free license cannot consume shared reports, respectively see the options below.
Which license is for whom
As always, it depends on the usage. In concrete terms this means, a user gets access depending on the type of license and subscription, where content is stored, and of course, the assigned roles and permissions.
There exist three licensing SKU´s (Stock Keeping Unit, a product in the Microsoft universe):

A SKU (A1 - A5) - Academic: Licenses for educational institutions. Government, and nonprofit pricing are available.
EM SKU (EM1 - EM3) - Embedded: Microsoft Power BI Embedded allows application developers to embed reports into their applications.
P SKU (P1 - P5) - Premium: P SKUs is for typical production scenarios (the default license type).

For users, Power BI service has either

a free license,
a Pro license, or
a Premium per-user license.
It is possible to have more than one license at the same time. See the following table from here.


Then, there are organizational subscriptions: Premium is an organizational subscription that allows to to store content in a virtual container called a capacity (see here, capacity follows a similar concept as environments in the Power Platform). Anyone with permissions can view content stored in here. Currently, Premium Gen2 is to simplify the licensing and is in preview.
See more at the Microsoft documentation pages at Power BI service features by license type and Licenses and subscriptions for business users. The license prices can be found at Power BI pricing.
Ways to work with a Power BI license
Now I wanted to find out how to use reports with a Power BI Free license. Fortunately, I got help from my MVP colleague Markus Ehrenmueller-Jensen from savorydata.com. Markus sent me a list of licensing options, which I am summarizing here. Many thanks for helping me out Markus! So here are the basic licensing rules for working with Power BI:
When it comes to sharing, the Power BI service is not free (as products from other analytics providers).
Content creators: For publishing, you'll need one Power BI Pro (P) or Premium Per User (PPU) account. Note: The Power BI Pro version is already included in the M365 E5 license.
Every user needs a Power BI license (with an exception when using Premium capacity).
Only the P SKU allows free Power BI users to consume Power BI apps and shared content, in Power BI service, see here.
So, Power BI report consumers have these options to view reports:
Every consumer needs a Pro license to access a shared report (included in the M365 E5 license) - recommended for smaller organizations.
Purchase a Premium Capacity and share reports from there. This is not cheap: for the P-SKU the price is about $4,995 per capacity/month. Note, if your organization is eligible: Premium Capacity for the A SKU´s and EM SKU´s is much cheaper: as far as I see, the capacity for the smallest A SKU starts at $1/hour - recommended for larger organizations.
Publish a report as PDF: The report can be cut off, this creates a more or less a screenshot and the report is no longer interactive - not recommended.
Store the PBIX file in a central location like SharePoint and let the users use a local installed (and cost free) Power BI desktop app to access the report: Note: This is just a workaround and this could create a file version hell - not recommended.
Publish to web from Power BI: Keep in mind that anyone on the Internet can view your published report or visual then - not recommended for organizational data.
Alternative ways without using Power BI to save costs. Integrate visuals in an (web) app, or use other mechanisms to present the data.
Recommendations to view reports from a licensing perspective
My conclusion: The best way to share Power BI reports for small organizations is 1) to assign a Pro license to each user who shall be able to see a shared report.
If an organization has a lot of reports, and many users shall have access to view, my recommendation is 2) to purchase a Premium capacity license (see here). For me, the relevant part follows here: "With Premium capacity, anyone with permissions, whether they're inside or outside your organization, can view content stored in this Premium capacity, without purchasing individual Power BI Pro or Premium per-user licenses.". To make it clear, users with the Free licenses then can view reports that are stored in the Premium capacity. Also, since Power BI will be used more and more for most M365 clients in the future, it makes sense, especially for larger organizations, to save money here instead of licensing each user individually (depending on the other M365 licenses they have).
The options 3), 4) and 5) are just workarounds and not really good methods. It may be a good idea 6) to speak to your software experts to find an alternative way to get raw data or to visualize it in another app or simply in Microsoft Excel if you need to save money through licenses.
Finally, you can find a cool summary for Power BI licensing options in the Microsoft Power BI Community Blog at Power BI Licensing in Pictures - Updated! I borrowed the graphics for the Premium service (my option 2) here:
I hope this article helps you through your considerations for using Power BI in your organization.
Categories: App, English, Microsoft, Power Platform, Cloud, Microsoft365, Office365, Power BI