Time flies! As soon as BUILD conference 2015 started it's over now. Martina and I arrived a week ago in California and spent some days in Silicon valley (working there…) and north of San Francisco before attending the conference.
BUILD, the 5th
This was our 4th BUILD. In total there were five BUILD conferences (after Microsoft paused and renamed the PDC and started with Windows 8): The first one was in 2011 in Los Angeles, Anaheim, followed 2012 at the Microsoft Campus in Redmond, we skipped 2013 in San Fran, Moscone Center, and have been at the last BUILD 2014 and now in 2015, also in the same location. So we have some experience with this Developer Conference.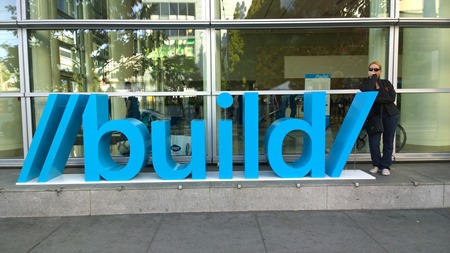 The good thing is that you get all the news directly and meet members of the product groups there. This year was no difference. I personally like the Moscone Center West because it's not as huge as other conference centers and the ways between session rooms and booths and meals are relatively short. As far as I have heard, there should have been between 5000 and 6000 people there. I especially like daylight and the ambience is great there.
Location in San Fran
San Francisco, well, I like the city but actually I would vote for another location in future. The city is very expensive (hotel rooms usually start with 300$/night plus tax, restaurants, parking, etc. is also expensive) and the SoMa area with a lot of crazy and homeless people is not the best one, but it's safe anyway. Sure, there's a lot to see in San Fran and around, the city has it's charm and I can live with that location too.
News and content
The keynotes and sessions are online available on channel9/Build/2015, so everybody can see the content himself anytime – that's simply great!
There have been two keynotes on day one and day two. Keynote #1 had a lot of news. besides the many new features of Microsoft Azure - more than 500 new features since last BUILD a year ago! Microsoft's CEO Satya Nadella himself opened and closed the keynote.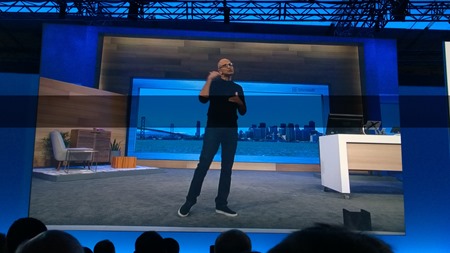 Microsoft now is offering some tools for developers working with Linux and iOS like "Visual Studio Code". It's a new code editor with Intellisense and much more.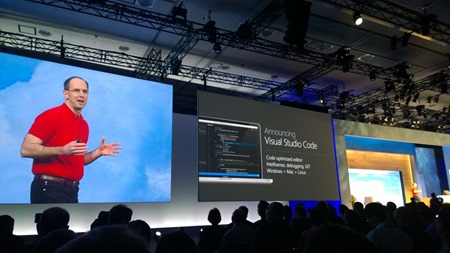 The big highlights – of course – were Windows 10 and the Windows Universal Platform (Universal apps), the brand new features of "Building bridges" with support for … ALL platforms on Windows 10, Windows continuum and Hololens.
There are a lot of blogposts about the keynotes and the new features, so I don't go deeper in here now, but just want to mention that I really thought: WOW! Here's my Wow-effect: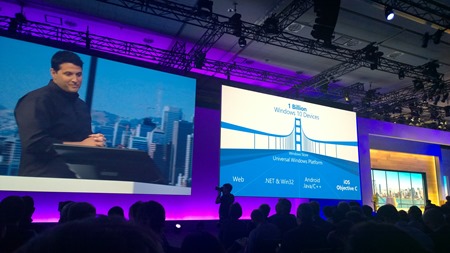 With Windows 10 there are now four ways to use apps from the Web, Win32 and .NET, Android and iOS – just by compiling the sources in Visual Studio and creating a new appx package. That's really great (and I hope that companies developing apps will use that feature to "port" their apps into the Windows world too).
"Project Spartan" got it's new Name "Microsoft Edge" (at least the "e" icon now has a better meaning…)
And by the way: Every attendee got a brand new HP Spectre X360 notebook!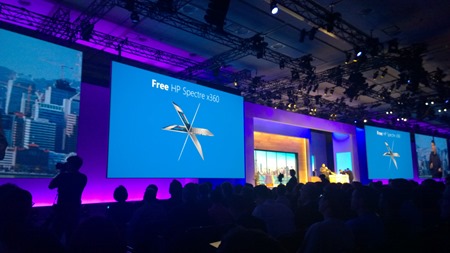 We saw a great HoloLens demo at the end. I would recommend to watch the keynote online to see the fascinating work-together of virtual and real world in the demos.
Keynote #2 did not really have breaking highlights. Microsoft went deeper into the new universal apps world and showed some big data and machine learning scenarios (with connected cows, genome data and more) – which I personally really liked.
Of course another demo of HoloLens was shown, even there's not really much to do right now. People who were able to try it out were very delighted! But we are curious what will come next with the virtual reality world.
This is not your father's Microsoft
I'm not sure where I read that statement, but it's definitely true. Microsoft is serious going Open Source and going into other platforms like supporting developers in Android and iOS and Linux. Microsoft turned 40 this April and now has completely changed their business. Moving on from (very successful) products to services, cloud and reaching out for developers in the other corners. That's impressive, clever – and necessary.
So it's no coincidence that we now have Visual Studio Code and a lot of tools like Manifoldjs (picks a manifest & creates apps for all platforms), Vorlon.js for debugging web apps), support for Github enterprise for Azure and much more.
Sessions
I saw both: Great sessions which were packed, and sessions with a small amount of attendees. All speakers had deep technical knowledge – it's really a pleasure to learn about new technologies directly from the product teams. Unfortunately some speakers were missing good presentation skills, but anyway, I liked the sessions very much. With the online webcasts it's very convenient to go thru them, skip parts or move on to other sessions. Overall I was satisfied by the offer and the number of sessions.
Around the conference
A successful conference consists of many factors. Besides the technical content there are things like meals, drinks, parties and so on. The quality of the meals were as before: to say it quickly: not great. Interestingly the food got better from day to day, but on the other side developers are not very demanding if the content is good enough – which worked. Anyway, nobody had to go away hungry, for lunch there was plenty of food – but no food in the breaks.
Some companies like Xamarin organized attendee parties and there were some more events like the country events and the attendee party on Thursday. Also there were some closed events with registration only or for special groups (like RD, MVP, etc.).
The attendee party took place in the cinema right across the street as in the year before, attendees could watch the new Avengers movie "Age of Ultron" which was…nice.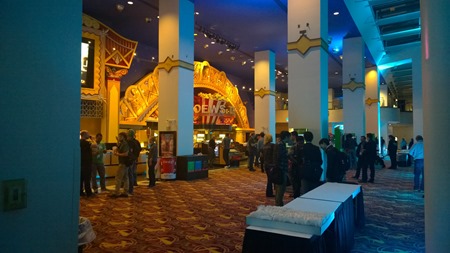 We also had some fun doing some Avengers action snapshots there.
And well, yes, we made some (german) podcast also with some interviews and a video statement about our impressions at Build 2015!
Check them out here:
Next steps
Check out the cool sessions of http://channel9.msdn.com/Events/Build/2015 (and Tweets with #Build2015)!
Currently we are at Chicago and had a great weekend here… looking forward to Microsoft Ignite, which will start tomorrow. Martina will have three sessions there, we will post from #MSIgnite here too, stay tuned!
Categories: Azure, Cloud, Developer, English, Event, Microsoft, Office365, Windows, Visual Studio, atwork