First of all we would like to thank all attendees, speakers, sponsors and all helping hands for making the second Office 365 Conference such a huge success (again)! Members of the MVP community organized the Office 365 conference from January 8th to 9th 2016 in Cologne.
Beside the great personal feedback on site it's always interesting to get some event feedback in Social Media, so we made a short Twitter Statistics of the hashtag #Office365Konf. So, here we go!
Overview
Since 3rd of January 2016 till now (10th January, 6pm) there have been about 660 tweets sent by about 120 Twitter users. With 46% about half of the messages have been retweeted.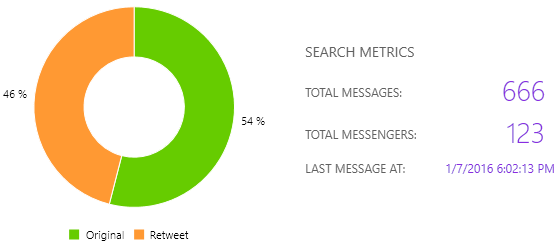 Well, unfortunately this statistics is not absolutely correct, there were also some spam tweets by @Raayan5t and @SheliaBrunswi included in these numbers who used our hashtag for providing their own private or political messages but these were maybe about max. 30 tweets. So let's assume there have been around 630 "real" tweets about this event during the last week.
Clients
We see that most mobile Twitter clients being used have been 35% Windows Phones and 35% PC-Clients, followed by 25% iPhones and only 4% Android devices.
By Time
As expected the day with most tweets has been the first conference day, Friday the 8th of January with 316 tweets followed by Saturday, the 9th, with 221 tweets, then Thursday, 6th wuith 72 tweets and then Sunday with about 44 tweets.
Top Hashtags
The trends on Twitter were (besides #Office365Konf.): office365, community, sharepoint, avepoint, delve, officedev, iot, innovation and mvpbuzz.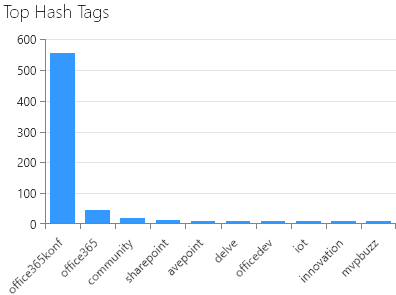 Top Mentions
The Twitter users most mentioned were: atwork, Ra_Koellner, patricg, magrom, GokanOzcifi, mysharepoint, maarteneekels, ragnarh, patrickhosch and adisjugo (…the usual suspects

).
Top 10 Messengers
The following list shows the top 10 Messengers during this week.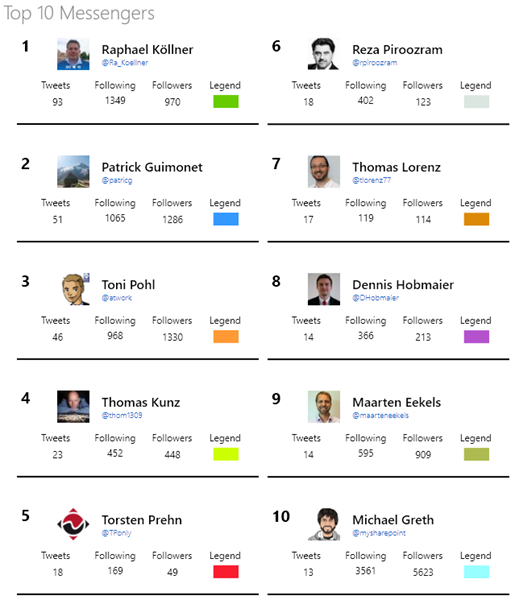 Well, some of the messages of the Top 10 messengers were Retweets:
Twitter users reached
By the number of followers of just the top 10 twitter users, more than 11.000 users have been reached,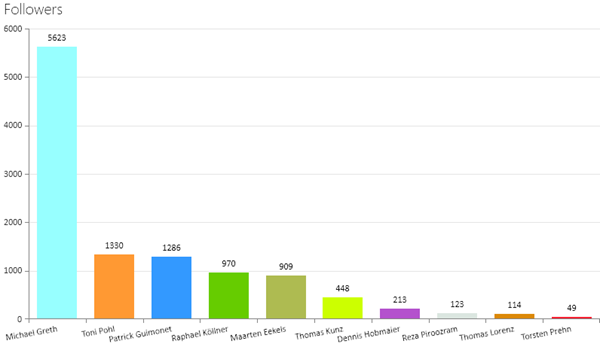 Asking tweetreach.com, shows also impressive numbers for reached users – well, just for the last 100 tweets, but multiply the numbers by 6… (for about 600 tweets):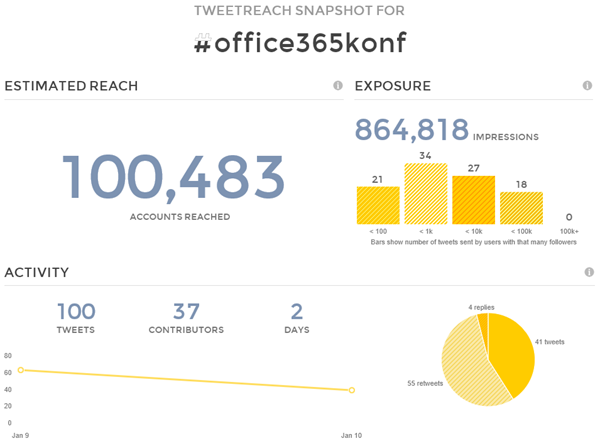 The Twitter Analytics was made with Plus One Social tool and with tweetreach.com.
Summary
Well, to get to the point, we are happy that many participants also used Twitter to inform about the hottest news and for providing feedback which is very valuable for us. Thanks!
Follow this link to see the Twitter statistics of the first Office 365 Conference in January 2015.
We will post more infos, feedback and photos about Office 365 Conference shortly!
We from atwork (magrom and @atwork) had a great time at the conference and hope you liked it too!
Categories: Event, English, Microsoft, MVP, Office365, Office, SharePoint, Exchange, Skype, Yammer, atwork
Source: https://blog.atwork.at/post/Office365Konf-Twitter-Statistics