We´re happy to announce our first App for Outlook called "Like for Outlook"!
Have you ever wanted to send a "Like"-message in Microsoft Outlook like in social media networks?
Now you can!
With that little App for Outlook you can send a "Like" to the sender or the recipients of an email with one click!

Click here and install the App from the Office Store. It´s free!

Install the app
Open the link Like for Outlook and you will be redirected to the Like for Outlook App in the Microsoft Office Store immediately.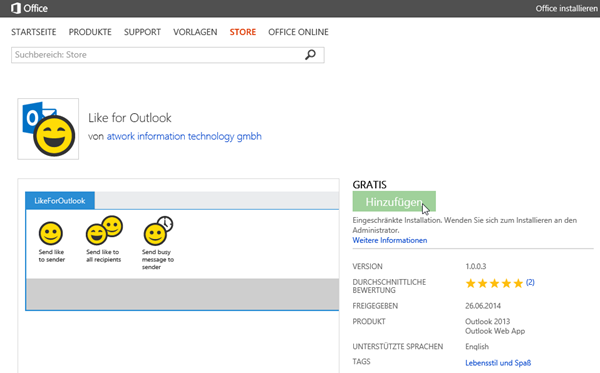 Click the green "Add" button and follow the steps to install the app to your Exchange profile. Done.
IT-Admins Roll-out
If you´re in an organization with an Exchange infrastructure or your company is using Microsoft Office 365 your Exchange Admin has to accept "Like for Outlook" for your organization. In that case pls. contact your IT-Admin to perform the necessary steps.
Here´s the step-by-step manual for Exchange-Admins: How to install an Exchange App as IT-Admin
Use Like for Outlook
Once you have activated the app you can use it by clicking the "LikeForOutlook" button in the mail menu line and choose what kind of message you want to send by simply clicking the icon.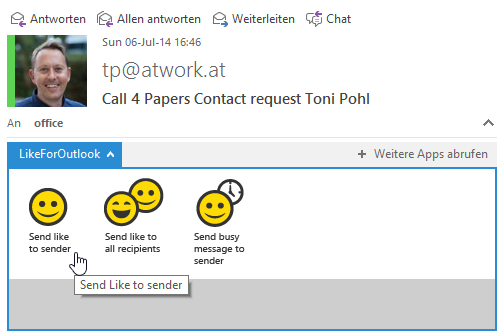 Choose between:
Send like to sender – You send a Like to the sender of that email only.
Send like to all recipients – You send a Like to the sender and all recipients (which are in the To and in the CC line)
Send busy message to sender – If you´re busy right now and you want to inform the sender that you´ll contact him later.
After clicking the icon the reply message with the Like is sent and you get a notification with the status "Success!" (or there if an error occurred at the sending process you receive the error-message).

Recipients get a reply
The original sender gets an email with the Like-message (or the busy message you sent).
This looks like here:
Very simple, or?
Because you sent the email you see the output also in your "Sent items" folder.

Security info: There´s no server part included. By clicking the Like-Icon the app generates an email in your personal Outlook in the same way as you would do it when you reply to a message.
So enjoy and have fun with our Like for Outlook!
Please rate!
Pls. rate our app and recommend it to other Outlook users!
Simply click the link "Like for Outlook" in your sent email or use this link.
Thx!

Update 26.01.2015: The App URL in the Microsoft Office App-Store was changed. So the old link in this article was replaced by this new URL pointing to the app: http://bit.ly/LikeForOutlook
Categories: App, atwork, Exchange, English, Microsoft, MVP, Office, Office365, Social