Last week, the Microsoft Ignite conference took place in Orlando, Florida. Microsoft informed about its new products and services and offered over 1000 sessions and over 200 hands-on experiences to attend and watch online. This was our 5th Ignite conference and we had a blast. See some impressions here.
Microsoft Ignite, including the pre-day, took place from Sunday, Nov. 3rd to Friday, Nov. 8th, 2019 in the Orange County Convention Center (OCCC) in Orlando, Florida, at the same location as in the past three years. The logistics worked properly and all 30,000 attendees could schedule their conference days with the Microsoft Events mobile app (see Google Play and Apple App store) and online, hang out in The Hub area - the expo hall where all partners and the Microsoft booths were located and food was provided - and attend the sessions in the West building and in the Hyatt Hotel across the street.
We from atwork were happy to be part of Ignite with some sessions, panels, podcasts, Live Blogging articles and at the Microsoft 356 booth. I like the conference since it´s a perfect location to meet people from all over the world, from the product groups, from the community and to meet new and old international friends.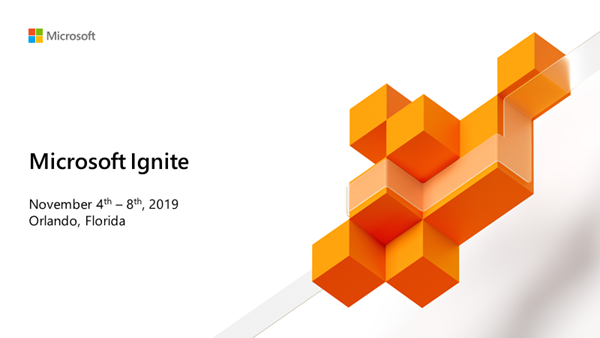 Ignite is growing from year to year, but is still manageable. The keynote by Satya Nadella was mostly about new Azure services, such as Azure Arc and Azure Synapse Analytics. This time the keynote took place in the Hub area, partly on stage, with switching to booth locations where demos were shown. I didn't´t line up for getting one of the 3,000 seats there, but went directly to the Chaplin Theater where the keynote was streamed to which also worked fine. My colleague Martina already was at her booth and could get a direct snapshot of Satya presenting near to her.

After the vision keynote, the first sessions started and technical keynotes followed. For Microsoft 365, VP Jeff Teper demonstrated the latest news on SharePoint, Office, Yammer and OneDrive, see The latest innovations in SharePoint, OneDrive, and Office for content collaboration in Microsoft 365. For me, besides a bunch of improvements in the Microsoft 365 services, the announcement of Project Cortex, an AI-powered knowledge management tool, was a highlight. Project Cortex is currently in private preview and will be available next year. Also, my favorite topic, Microsoft Graph and Microsoft Teams had a lot of news and interest.
You can watch all sessions of Microsoft Ignite online at aka.ms/MicrosoftIgnite2019. To navigate directly to a session, simply add the session code at the end of that URL. I also liked that all attendees received an exclusive offer on a free certification exam on fundamentals, role-based or specific topics, see aka.ms/FreeExam_MSIgnite.
See all conference announcements in the Book of News - Microsoft Ignite 2019. Thi is a 88 pages PDF document informing about all news in the Microsoft services, from Azure to Workplace..
It was a busy conference with long days and great evenings at various events that happened around the conference. See some snapshots in this Sway here.
Also check out our sessions, social media posts and live blog articles:
THR3043-Microsoft Teams and Office 365 Groups PowerShell MasterClass - Martina Grom and Toni Pohl
BRK2058-Deploy Office 365 groups at scale to power Microsoft Teams, Outlook, Yammer, and SharePoint - Martina Grom and Salil Kakkar
BRK3145-IT burnout - the state of the industry panel - Theresa Miller, Jeff Guillet, Martina Grom, Estelle Auberix
UNC1007-Is enterprise social really the solution for change management and adoption? - Martina Grom, Lonya French, Amy Dolzine
POD1071-The CollabTalk Podcast: What it takes to become an MVP or RD - Martina Grom
Microsoft Ignite Live Blog: BRK1077-Streamline your business processes with Teams and Power Platform
Martina Grom speaks on the challenges she sees from clients in adopting new service, see it at theCube.

Our friends at tyGraph have created a Twitter analysis, as in the past years. See it at link.tygraph.com/IgniteTweets19!

Update, Nov. 14th: See the tyGraph Session browser with direct links to the recorded videos at link.tygraph.com/IgniteSessions

Martina Grom speaks on the challenges she sees from clients in adopting new service, see it at theCube.

…and a lot more. See #MSIgnite on Twitter
So, we had a blast at Ignite.
Our next IT events will be the Microsoft 365 Training Day event in Vienna, our Office Developer Bootcamp in Vienna, the Modern Workplace Summit in Paris, Microsoft Ignite The Tour and SharePoint Conference North America in 2020. Hope to CU at one of our next events!
Categories: Azure, Blog, Cloud, English, Event, Microsoft, MVP, Microsoft365, Office365, atwork
Source: https://blog.atwork.at/post/Impressions-of-Microsoft-Ignite-2019