Last weekend SharePoint Saturday Belgium #SPSBE took place in a suburb of Brussels, see http://www.spsevents.org/city/Brussels/Brussels2014/home. It was the 4th SPS in Belgium and the SharePoint community met for exchanging knowledge … and having a fun and a great event.
We from atwork (@magrom and @atwork) were happy to be part of SPSBE and had a great weekend in Brussels (which was in fact our first time in Belgium which was awesome).
About 250 participants followed the invitation to the community event which occured in St-Lendriksborre at the location of Xylos, one of the main sponsors for SPSBE.
In April there were about 700 tweets about #SPSBE. Again I´ve been to lazy to create the Twitter-Analytics in time to get data back to the event, but I post these screenshots anyway to give some impression about the weekend.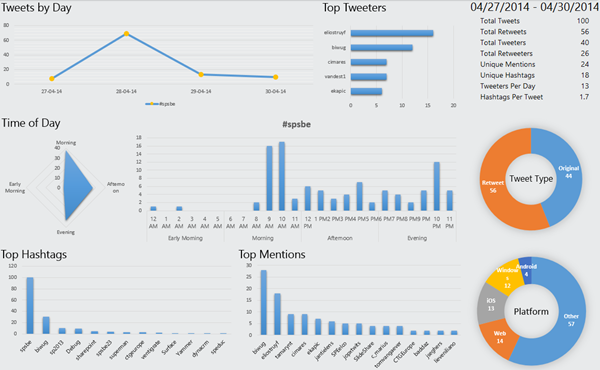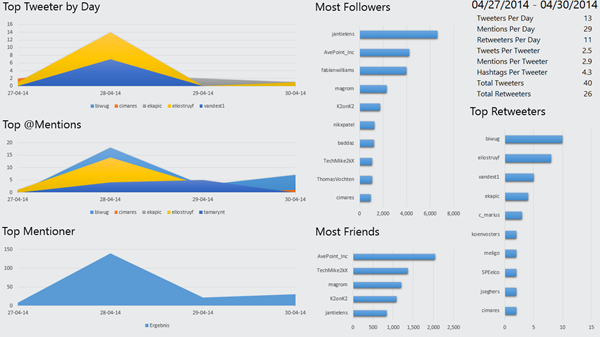 The event started on friday with a very nice community dinner, we could even select our preferred dinner choices online – thanks for that great evening in Grimbergen!
The whole Saturday was planned very well, see location and sessions. All speakers got blue T-Shirts with name-tags to easy communicate with them. See a snapshot of the speaker´s room with a cool combat jet in the back.
We had a full schedule with 7 parallel tracks! A lot of knowledge transfer and discussion!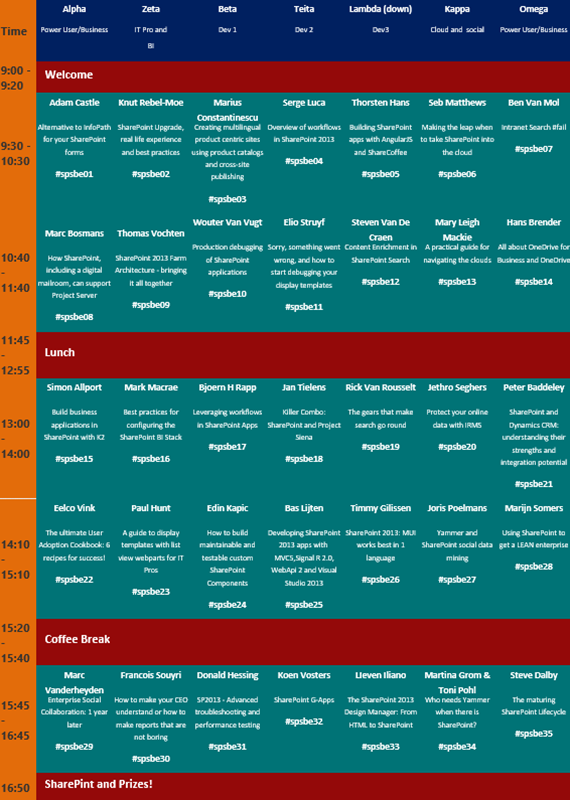 After the sessions there was time for SharePint and a raffle with prizes for lucky attendees.
And all speakers got Belgian Beer!

Unfortunately there are not all speakers on the common photo, some speakers had to leave before end (you know, this saturday was also King´s-Day in the Netherlands…) and for traveling home to UK, Norway, Sweden, Netherlands, Germany, … So here´s the speaker´s pic: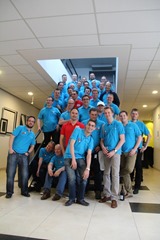 After the event some of us had dinner together in Brussels … with some Belgian Beer – enjoyed it a lot!
#SPSBE was a great event with passionate people around the (for us) Northern European SharePoint community. It was great to meet a lot of new people and experts we only know from following on Twitter and Social Media!
Thanks again for the invitation and the perfect organization – hope to see you soon at the next event (which will be in fact for many of us at ESPC next week in Barcelona…).

Categories: atwork, Cloud, English, Event, Microsoft, MVP, Office365, SharePoint