Today Microsoft announced that Microsoft Accounts "MSA" (formerly known as "Live-ID") no longer can be created with a work email address. That's important for millions of users.
What does this mean? Well, this article Cleaning up the #AzureAD and Microsoft account overlap explains all the details:
"Starting today, we're blocking the ability to create a new personal Microsoft account using a work/school email address, when the email domain is configured in Azure AD."
This shall prevent that users can have two accounts with the same email address, one in Azure Active Directory and one Microsoft account.
Nowadays this is handled at the login process as shown here: The login form asks if the username is a personal account (MSA) or a work or school account (ORG account):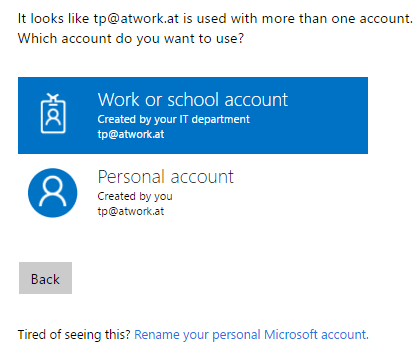 The sign-up block only prevents the creation of new MSA accounts. It has no impact on users who already have a Microsoft account with a work email address.
If you are already in this situation, this support article provides help how to change the MSA username.
This is a good step to reduce the confusion with Microsoft's private and organizational accounts.
Hope this helps!
Categories: General, Cloud, English, Microsoft, Office365, Azure
Source: https://blog.atwork.at/post/2016/09/16/No-more-ORG-email-addresses-for-MSA