Since beginning of december Microsoft Office 365 Student Advantage is available for educational facilities like schools and universities. With Student Advantage participating schools get free access to Microsoft Office 365 as long as the schools license Office 365 ProPlus or Office Professional Plus for their faculty members. A great deal to get the Office 365 licenses – for free!

Student Advantage
… makes it easy for students to get access to the latest version of Microsoft Office and better prepare themselves for the tools used in modern day workplaces. Today, Student Advantage is available to more than 35,000 educational institutions worldwide. Software-as-a-Service is the modern way of working with the latest and easy to use software.
Check out the offer here! For information in german see here.
Office 365 management
When using Office 365 in large enterprises or edu-facilities the management isn´t trivial.
Office 365 offers a role based administration within the web portal. That´s easy but does not provide tuning for example for branch offices, departements or any organizational units.
Real world scenarios demand an easy management for delegated administration!
For example a head of department in a branch office shall be able to administer only his employees and co-workers – and not all colleagues in the whole organization!
Delegate 365
That´s where Delegate365 comes in. Delegate 365 is an easy-to-use, web-based portal for delegated user and license management in Microsoft Office 365 and Windows Azure Active Directory.
Instead of using standard roles portal administrators can define any number of organizational units and who shall administer a unit and what licenses a unit can use. See http://delegate365.com/ for more information.
The business administrators can manage their own users and create their own global distribution lists as well. So Delegate365 simplifies all this tasks and works as new standard portal with advanced management features.

Delegate 365 is for…
Typical customers of Delegate365 are larger businesses, companies with some departments or locations, franchisers, educational facilities, schooling, clubs, associations and every group who uses Microsoft Office 365™ and wants to use delegated administrators for managing only their own units.
There are a lot of scenarios where the delegation of user management makes sense. IT-departments can be relieved, central administration only needs to define the business managers and the organizational units. From that on, the administrators can manage their own units in an easy-to-use web-portal: Delegate365

Organizational Units
… are the soul of management in Delegate365. The portal administrator defines any number of organizational units (OU) to create individual groups within the portal administration. Each administrator belongs to one or more OU´s. All objects belong to one OU.
With Delegate 365 you get an easy-to-use hierarchy where it´s strictly defined who can administer which users, domains and licenses.
Depending on the role the administrator can manage his own users, licences, groups and distribution groups as well as import users into his OU.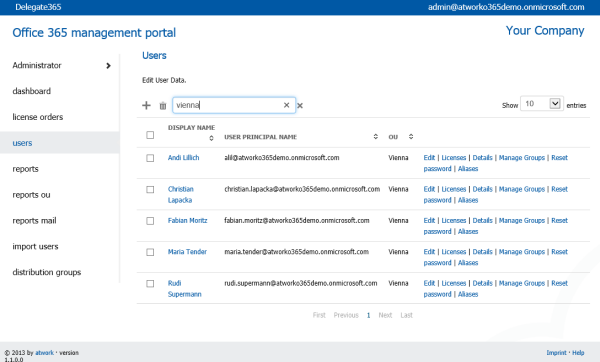 Self registering for EDU
Often companies and facilities do not offer an user self registration because the effort for creating and maintaining such a web platform with the necessary business logic as well as the payment system is relevant.
Delegate 365 also fills that gap and offers an ordering module for users who want to benefit from the (free) features of Microsoft Office 365!
Users can self-register for an Office 365 license within an organization. The validation of the registered user can be done automatically against a database – for example a central student database – or can be done manually, for example if the user provides a scanned picture of his student identity with his application.
Additionally the provider of Delegate 365 can include a payment service like paypal if a fee for the service handling shall be collected.
It doesn´t end here!
Delegate 365 offers secure webservices for other systems to connect with. With these APIs user provisioning can be enforced by schedules tasks or other services.
Reports provide quick overviews and help administrators to manage users and licences efficiently.
With these Delegate 365-functions enterprises and educational facilities can simplify tasks for user provisioning and managing. Come on and benefit form the easy-to-use delegation-portal!
Have a look at Delegate365.com, contact us for a demo and try it out!
Categories: General, Cloud, Office, Office365, Microsoft, Intune, Tools, Exchange, English
Source: https://blog.atwork.at/post/How-Delegate-365-can-help-you-with-Office-365-Student-Advantage