Rechtzeitig zum Sommerbeginn gibt es neue Visiostencils und Icons für die Microsoft Services Azure, Office 365 und On Premises Produkte wie Windows Server. Die Symbole sind vor allem dann hilfreich, wenn es darum geht, Architekturdiagramme zu erstellen bzw. Systemszenarien, Bücher, Präsentationen und vieles mehr. Microsoft stellt diese Symbole ksotenfrei zur Verfügung, damit auch ein einheitliches Erscheinungsbild gewährleistet ist.Alle Symbole stehen auch im Vektorformat zur Verfügung, können damit beliebig vergrössert und verkelinert werden. Eine Änderung der Symbole ist jedoch nicht zulässig.
Sollten Sie die Symbole in Ihren eigenen User Interfaces verwenden wollen fragen Sie bitte vorab mittels E-Mail bei CnESymbols@microsoft.com nach.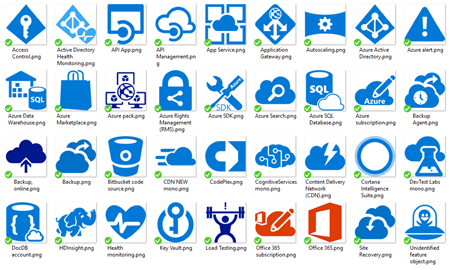 Verfügbare Formate im Paket:
Visio Stencil (.vss): jeweils einmal mit weissem Hintergrund und einmal ohne Hintergrund.
PNG Dateien: transparent – für die Verwendung z.B. in PowerPoint.
SVG Dateien: Skalierbare Vektorgrafiken zur Verwendung in Inkscape, Adobe Illustrator oder Visio.
Die Farbe der Cloud
Sollten Sie die korrekten RGB Werte für die Symboile und deren Bedeutung suchen, so gibt es auch hier Hilfe.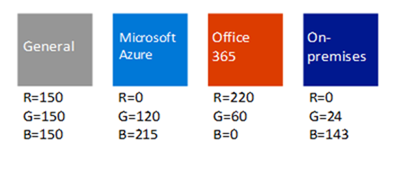 Weitere Visio Stencils
Es existieren natürlich noch viele weitere Stencil und Icon sets, hier exemplarisch ein paar gelistet:
http://aka.ms/CnESymbols - Microsoft Cloud and Enterprise Symbols (diese hier)
http://aka.ms/OfficeSymbols - Microsoft Office symbols
https://www.microsoft.com/en-us/download/details.aspx?id=35825 - Visual Studio icons
http://aka.ms/3dBlueprintTemplateVideo - Microsoft 3d Architecture Blueprint Visio toolkit
https://www.microsoft.com/en-us/download/confirmation.aspx?id=25110 – Software and Database shape for Microsoft Visio
Conference talks on Channel 9. Many have PowerPoint slide downloads. For example: http://channel9.msdn.com/Events/TechEd/NorthAmerica/2011/COS301
Microsoft MVP and other unofficial resources
-----------------------------------------------
https://worldvectorlogo.com/ and http://www.brandsoftheworld.com/logos?dnid=367184 - Various SVGs for most major companies. You are responsible for knowing the copyright and redistribution rules for these resources.
https://www.wikipedia.org/ - Various SVGs if you look up the product or technology.
http://www.visiocafe.com/vsdfx.htm - Various Visio drawing stencils
https://gallery.technet.microsoft.com/Collection-of-Integration-e6a3f4d0 - Collection of Microsoft Integration Stencils for Visio 2013
https://gallery.technet.microsoft.com/Collection-of-Visio-2013-0283d5f4 - Collection of Visio 2013 Stencil for BizTalk Server
https://gallery.technet.microsoft.com/Collection-of-Visio-2010-30fcaa43 - Collection of Visio 2010 Stencil for BizTalk Server
Other companies
--------------------
Amazon - https://aws.amazon.com/architecture/icons/
Cisco - http://www.cisco.com/c/en/us/products/microsoft-visio-stencils-faq.html
Google- https://design.google.com/icons/
SyncFusion free icon library - https://www.syncfusion.com/downloads/metrostudio
Viel Freude beim Verwenden der Grafiken!
Categories: Azure, Cloud, Office365
Source: https://blog.atwork.at/post/neue-visio-stencils-und-symbole-fr-die-cloud