The well-known Scott Hanselman has been producing the recurring Azure Friday series for a long time. Last Friday, Scott interviewed Azure Barry (Barry Luijbregts) about "What to use for monitoring your applications in Azure". Barry did a great overview about the main monitoring services. See the recording and a kind of summary transcript here.
Azure provides a bunch of services for monitoring purposes. So, when you you use what service? To answer that, see the video at What to use for monitoring your applications in Azure | Azure Friday.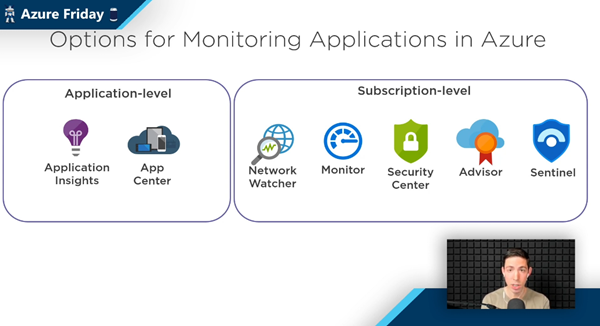 Here´s a short summary of the Azure monitoring services with links and a short description:
So, when to use what service? The key is to answer the following questions:
"What is the scope that I need to monitor?" and "What functionality do I need?"
In the video, Barry guides you through the functions of the seven monitoring services listed above.
When it comes to security, this topic is typically divided into the following pillars: 1. Collect and Prevent, 2. Detect, 3. Investigate (incidents) and 4. Respond (Fixing and Automation), as the Azure Sentinel graphics below shows.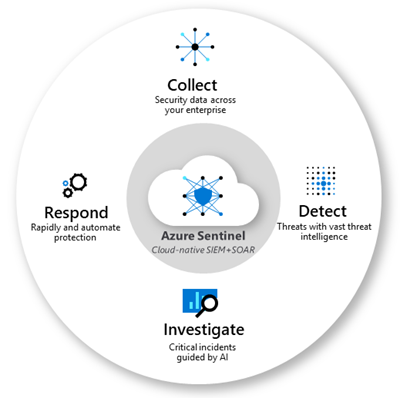 The recommendation for using Security Monitoring is, to use Security Center for collecting and preventing, and use Azure Sentinel for everything else.
Barry created a great guide in the following table with his recommendations (in the recording about at minute 16), when to use what service: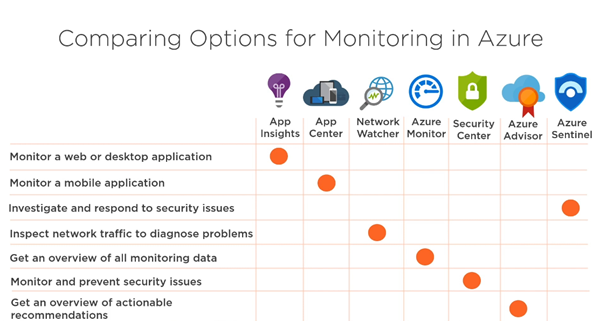 Even if some of the services have some overlap, it helps to see the focus of the service to decide when to use the best service, depending on the scenario.
Thanks Scott and Barry for the great Azure Friday session! I really recommend to watch the recording and I hope, this short summary helps to get an overview at a glance.
Categories: Azure, App, Cloud, Developer, English, Governance, Microsoft, Serverless, Tools, Visual Studio
Source: https://blog.atwork.at/post/Monitor-overview-of-Azure-services