Finally, Open Live Writer is here! Open Live Writer (OLW) is an open source application to manage and publish blog posts. The source code is based on Microsoft's Windows Live Writer, but Open Live Writer now is an improved MIT-license Open Source project on GitHub.
You can download OLW from http://openlivewriter.org.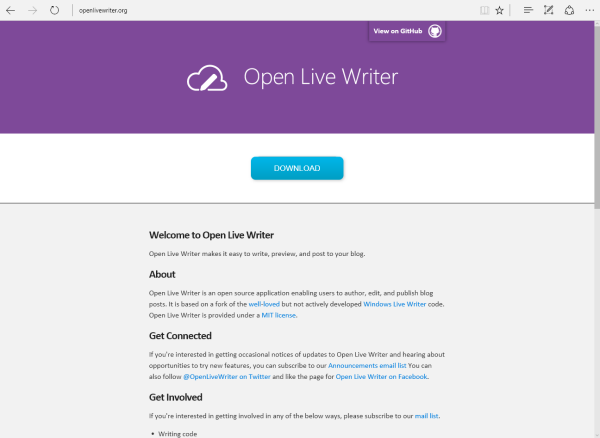 Microsoft stopped the development of WLW (which is still downloadable from Windows Essentials) in 2012.
The WLW fans tried to open source WLW for quite a time…
Thanks to a group of dedicated developers within Microsoft they have open sourced and forked Windows Live Writer. Many thanks guys! (Did I mention I love Live Writer and I use this tool really intense?).
The current version of OLW is 0.5 and the contributors have planned a lot of features to make this tool even better.
After installing OLW it's easy to start, see http://openlivewriter.org/getting-started.
To give you an impression of how OLW looks like: This blogpost in editing mode looks like here: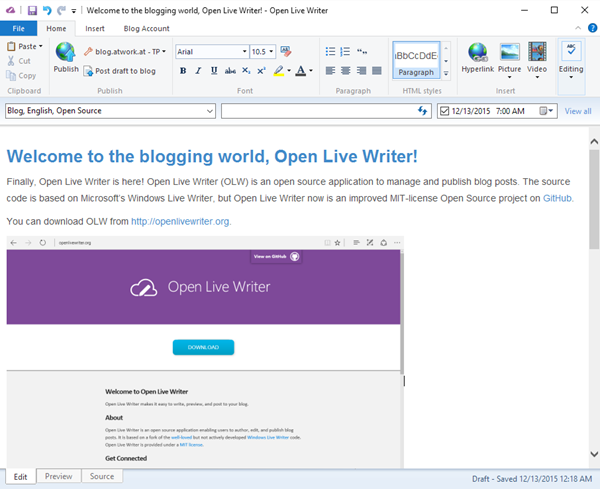 The good story is that OLW runs side-by-side with WLW and usage feels exactly the same. Users who were working with WLW can instantly use OLW which will be further developed in future and receive new features.
See Scott Hanselman's blogpost for details and how to contribute yourself!
Announcing Open Live Writer - An Open Source Fork of Windows Live Writer
Enjoy blogging with the new Open Live Writer! Thx to the OLW community!
Categories: Blog, English, Open Source
Source: https://blog.atwork.at/post/2015/12/13/Welcome-to-the-blogging-world-Open-Live-Writer