Microsoft 356 helps you communicate from anywhere. Today, the Microsoft 365 Virtual Marathon online event starts and I show different services like the quick to use crisis communication SharePoint site the Microsoft Health Care Bot service and more. Check out the Microsoft 365 Virtual Marathon and see how to start with these two services here.
Microsoft 365 Virtual Marathon
You can still join the free 36-hour Microsoft 365 Virtual Marathon online event and attend hundreds of interesting sessions, see the schedule. We from atwork will present the following sessions:
Best practices to use Microsoft 365 for crisis communication requirements - Martina Grom
Master PowerShell with Azure Automation Accounts - Toni Pohl
Microsoft Teams and Office 365 Groups PowerShell MasterClass - Martina Grom and Toni Pohl
Try the SharePoint Online Crisis Communications site
Open https://provisioning.sharepointpnp.com and provision a new Crisis Communication site. This free template keeps people informed about health & safety procedures, organizational news and much more.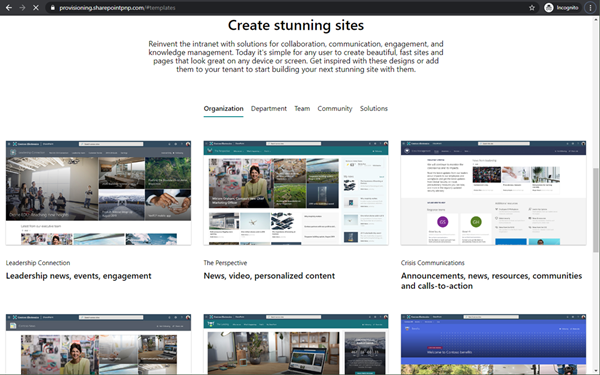 You need to be a Global Admin to provision the new site. After the provisioning, your can navigate to the new crisis management site. You can customize the prefilled site as needed.
See more at Build a crisis management site to connect people and information.
Try the Microsoft Health Care Bot service
This is a ready-to-use but customizable Healthcare Bot service offered in Azure as SaaS solution.
After the provisioning, the Health Bot Service offers various predefined scenarios.
…custom flows can be configured with a designer and models along with QnA Maker knowledgebases as well.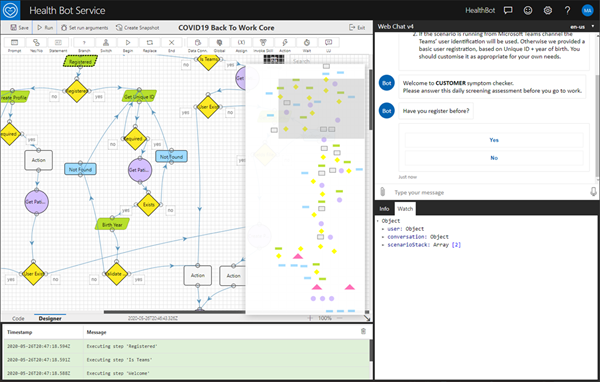 The chat bot can be used in various channels, such as in Microsoft Teams or can be embedded in a website, similar as here.
See more about such scenarios at Bringing conversational AI to healthcare.
I hope to see you in our sessions. Check it out!
Categories: Azure, Blog, Cloud, Governance, Microsoft, Microsoft365, Microsoft Teams, Office365, PowerShell, Security, Serverless, SharePoint, Tools, atwork, Developer, English, Event
Source: https://blog.atwork.at/post/Microsoft-365-Virtual-Marathon-and-Microsoft-365-for-crisis-communication-resources