Delegate365 version 2.9 is a new milestone in the evolution process of our Office 365 Delegation Add-On product. Have a look at the great new features:
New Design
We completely rebuilt the design and optimized the website performance.
We now make use of the latest Bootstrap framework and optimized all Client-side Styles and Code to reduce load time as well as using the Javascript framework AngularJS and SignalR for receiving a great website performance. The whole website now uses these technics for a good user experience with immediate response times – the user sees what´s going on, f.e. when opening a distribution list manipulating members of a distribution list or when syncing data.
The page setup is renewed and the menu has been cleaned up somewhat.
See the details here.
New Sync
The new Sync function allows portal admins to synchronize all data from Azure Active Directory into D365 manually at any time. Additionally rules can be set for automated assignment of users depending on user properties into D365 OU´s.
See the details here.
New Shared Mailboxes
D365 now supports the management of Shared Mailboxes.
Shared Mailboxes are an Exchange feature where many users can access a common mailbox (which does not need an Office 365 license), f.e. for departments or customer contact etc. Admins who are entitled to use this function now can easily manage Shared Mailboxes in D365.
See the details here.

Update: Report Account removed and Setup simplified
In D365 version 2.9 we removed the "Reporting Account" since all operations used for getting data out from Exchange are now made in the name of the Exchange Account. There´s no need for an extra account. So we also simplified the Setup-Wizard (https://d365-yourdomain.azurewebsites.net/setup) which now includes only two steps (filling in the the Office 365 administrator and the Exchange administrator) instead of three steps (with the former used Report administrator).
See the details here.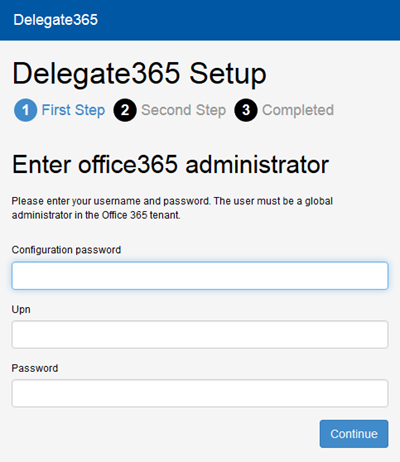 Automatic Upgrade
All these features will be available in D365 version 2.9. You will recognize the new D365 version in the new dashboard with the blue boxes, in the new design and of course in the status line.

Update: The upgrade to v2.9 for existing customers and trials has has been carried out by 20th Nov.
New D365 webs automatically get the newest version.
Enjoy the new Delegate365!
BTW: We are intensively working on more new features in Delegate365… stay tuned!

Categories: Delegate365, English, atwork, Office365
Source: https://blog.atwork.at/post/Delegate365-changelog-version-29-announcement-New-Design-New-Sync-and-Shared-Mailboxes-support