Wow, we had a busy year 2015 with Delegate365. Thanks to our customers and partners we got a lot of feedback to improve the service. As you see by the number of blogposts in 2015 (almost 40) we released updates of Delegate365 continuously and implemented a lot of useful features in the product in the last year.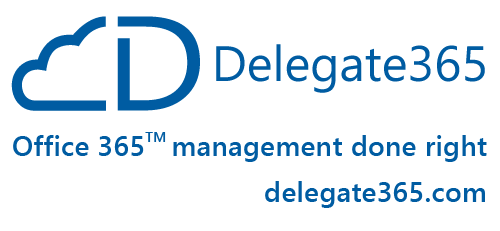 All customers get these updates automatically in their SaaS D365 tenant and benefit from the improvements.
We collected feature requests and summarized and prioritized them internally.
Of course, our clients want to know what to expect in new versions of Delegate365 as well.
So we start with this blogpost to announce new features and visions we plan for future releases of Delegate365.
Features which will be included in the next update (Februrary) are:
Major update version 5 coming begin/mid of february. This version brings optimized features and better performance in a bunch of functions. The SyncOp has been strongly optimized and D365 now uses more caching for showing and updating lists which results in better performance.
New license plans added to the database (for example: Sway license and some more)
Distribution Lists: Instead of "Edit members" now full management of all features with "Edit group". This includes a new membership picker list, permissions, ownership, approvals, group delegation, Send As, Send on behalf (some features are also manageable for synched DG's, D365 checks this and deactivates specific options in that case).
Distribution Lists: can now include contacts (have not been showed and could not be added in D365 before).
Delegate Admin can administer his own user account in the user's list (controlled through a switch in Admins list by the Portal Admin)
Minor fixes (for example: edit user , where the user nickname could overwrite the UPN in some cases, Auto License Assigning error if no license was selected in the OU, etc.)
The following list shows more planned functions. The list is definteley not complete, but anyway, we want to deliver some ideas about the directions and features of the updates we are planning in Delegate365, minor ones and larger ones. The following list is not sorted by priorities.
Improvements of the UI (Design-Updates, Notification Center: Add "clear all", etc.)
Changing the Logfile format to a more usable format (for further reporting, details to come soon)
Changing the Logfile for support multiple web instances
SyncOp: making the interval configurable for Portal Admins
Moving (hashed) configuration settings to Azure vault* instead of the D365 database
Supporting Dynamic groups*
Supporting Multi Level OU's (with inheritance)
Write-back operations* (dependant on Azure Premium and AAD Sync configuration)
Using Elastic Database (no direct impact for customers, but optimized usage of cloud resources and better performance)
Administrative Management for OneDrive for Business*
Provisioning SharePoint Online sites and webs
Adding Management for Skype For Business*
Supporting delegated management of Azure Virtual Machines (provisioning, start, stop, reboot, shutdown, RDP, etc.)
Features from feedback of our customers
This roadmap is part of our internal planned features, we are working on priorities and implementation. Features marked with * are dependant on Microsoft's RTM (Release to Manufacturing) availability of interfaces. Besides Office 365 management, Azure management will likely come into D365 as well.
Please understand that the planned features are dependant on various feedback and product development and are not guaranteed.
We will post an updated roadmap from time to time here as well, so stay tuned.
Thanks for your interest and your support of Delegate365!
The Delegate365-team of atwork
Categories: Delegate365, English, Office365, atwork
Source: https://blog.atwork.at/post/Delegate365-roadmap-2016