The atwork-team is beyond excited that we recently launched our first Microsoft Teams App – Cloud Hub. With Microsoft 365 being an evergreen service, it is sometimes hard to keep up with everything which comes into your Tenant. Cloud Hub solves access regulations to the Message center and provides anytime access for Change Managers and Operations to be always informed about what is new. Cloud Hub supports your evergreening and target operating model with instant information for your Team.
Receive important news from your Microsoft tenant
Cloud Hub is a business application that provides data from your Microsoft tenant, the Message Center, the Roadmap and the Incident Center. It enables you to keep track of upcoming changes, including new and changed features, scheduled maintenance, and other important announcements. With Cloud Hub, you can achieve a unified user experience in your Microsoft Teams environment, view all Microsoft messages in a table, and access this data securely and quickly.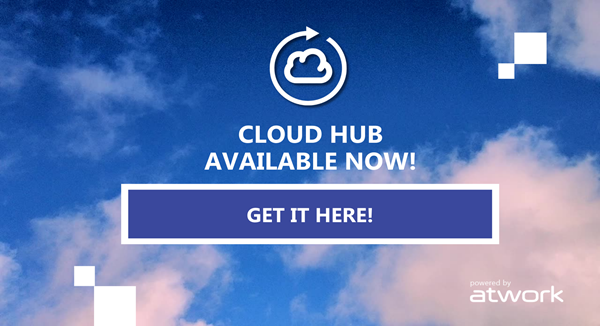 Your benefits
Stay up to date with each news, including planned changes, updates, upcoming or new features, and other important announcements
Gain a unified user experience on one single platform - Microsoft Teams
Display all Microsoft messages in a table format and show the latest announcements at the top of the list
Search, archive, bookmark, export, and share messages
Receive relevant and tailored information in an easy, fast, and secure way
Keep track of significant updates, which are communicated at least 30 days in advance, when an action is required
Main features
Filter news
Archive important news
Mark news as read/unread and as your favorites
Share news with your colleagues
Use the smart search function
Download Cloud Hub now for free!
Download Cloud Hub for free in the Microsoft Teams App Catalog or test it via Microsoft App Source and gain a unified user experience on one platform - Microsoft Teams - with Cloud Hub! Note: if you are not allowed to add Cloud Hub to your Teams environment, your Microsoft Teams Administrator can create an app setup policy.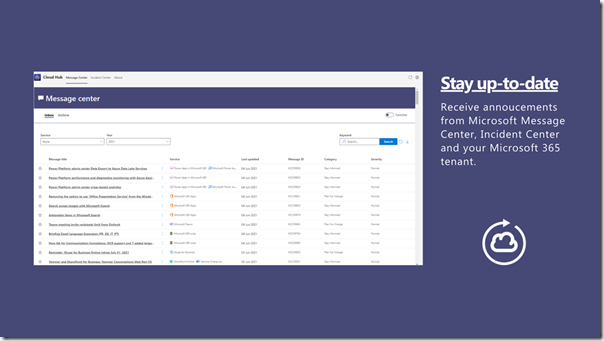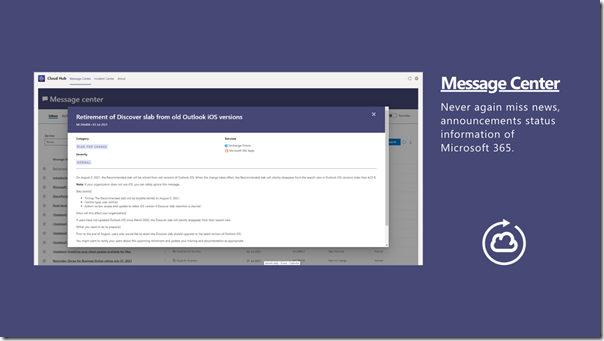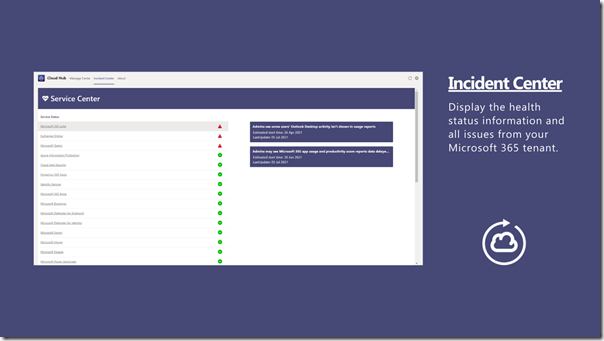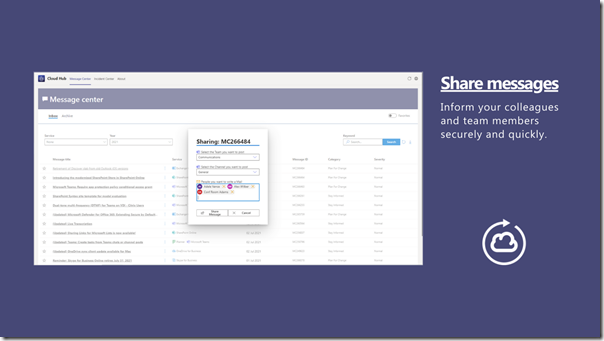 Need more information about Cloud Hub?
In case of questions about Cloud Hub, please visit our website for more information, contact us via support@atwork.at or watch the short Cloud Hub tutorial, where we guide you through the app. Stay up-to-date and enjoy Cloud Hub!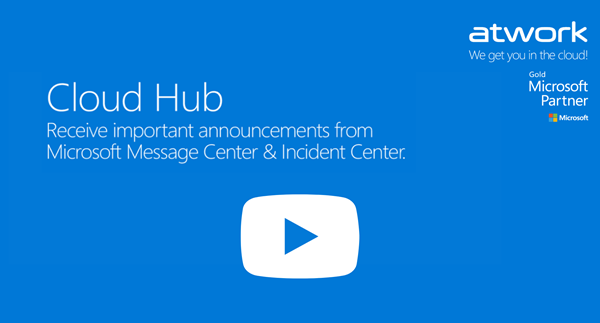 Let us know if Cloud Hub works for you and if you like it!
Suppose you are looking for a partner that helps you in your Microsoft Teams App Development, pls. let us know:
- Website: www.atwork-it.com
- E-Mail: office@atwork.at
- Phone: +43 (0)1 370 83 90
Categories: Office365, Microsoft365, App, Cloud, Microsoft Teams, English
Source: https://blog.atwork.at/post/Launch-Cloud-Hub-Microsoft-Teams-App