We are delighted to announce that our CEO, Martina Grom, will be speaker at this year's Microsoft Ignite conference. Ignite is Microsoft's largest IT conference that will take place from September 25 - 29, 2017 in Orlando, Florida. Ignite will offer about 900+ sessions, insights and roadmaps from industry leaders, and deep dives and live demos on the products you use every day.
As in the last years at Ignite Chicago 2015 and Ignite Atlanta 2016, Martina will deliver sessions about the Office 365 eco system. See more information at speaker Martina Grom.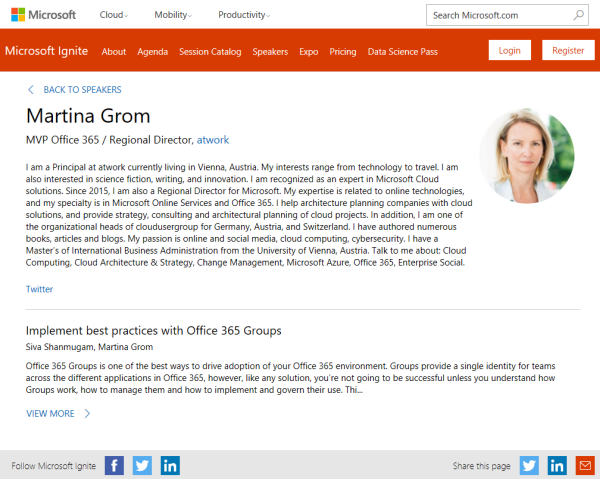 Martina will deliver three sessions:
The keys to Office 365 Groups management, THR3024
Ask us anything about Office 365 Groups, THR1003
Hope to see you there at Microsoft's largest IT event his year!
PS: You can follow Martina on twitter @magrom and Microsoft Ignite with the hashtag #MSIgnite.
Categories: General, Cloud, English, Event, Microsoft, MVP, Office365, atwork, Social
Source: https://blog.atwork.at/post/Martina-Grom-speaking-at-Microsoft-Ignite-2017