Die neue Microsoft Office Preview ist da (siehe Office Customer Preview).
Und es gibt viele Neuerungen!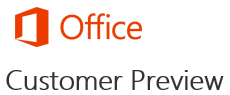 Das neue Microsoft Office bietet optimierte Bedienung (neue Oberfläche, Touch, Handschrifterkennung, etc.) und Social Networking-Funktionen sowie Cloud-Services für die Nutzung auf verschiedensten Geräten und für optimale Zusammenarbeit - speziell in Verbindung mit Windows 8:
"Experience Office at its best on Windows 8 devices ", siehe
What's new in Office.
Office Preview kann direkt von der Try Office-Website in den Editionen "Office 365 Home Premium Preview", Office 365 "Small Business Premium Preview" und "Office 365 ProPlus Preview" evaluiert werden:
Es gibt 32- und 64-bit Versionen von Office 365 ProPlus Preview. Wie bisher wird empfohlen, die 32-Bit Version zu verwenden (z.B. für Office-AddIns wie Social Media Komponenten, etc); siehe auch Overview of Office 365 ProPlus Preview.

Für IT-Pros sind viele interessante Funktionen ins Office eingeflossen, beispielsweise :
Office Telemetry - Admins können Client-Performance und Reports von (File-) Nutzung usw. ansehen,
Click-to-Run - Application Streaming und Reduktion der Installationszeiten per Microsoft App-V Technologie,
Office on Demand - Office wird auf Gast-PCs nicht installiert sondern nur gestreamed und
Office 365 ProPlus - Word, PowerPoint, Excel, Outlook, OneNote, Access, Publisher, InfoPath und Lync Clients werden per Click-to-Run Technologie sofort gestreamed.
Weitere Details dazu sind in Capabilities and features in the new Office zu finden.
Administratoren können das Verhalten von Click-to-Run per Configuration.xml steuern. Wie Click-to-Run als Alternative zur Windows Installer (MSI) basierten Installation funktioniert wird in Click-to-Run overview und Customization overview for Click-to-Run beschrieben.
Ab nun gibt es "Office-Apps" und bald einen Microsoft Office-Store zum Bereitstellen und Online-Beziehen von Office-Apps. Für Entwickler hat sich auch einiges getan - siehe Hallo Office-Apps!
Das Office 2013 Preview Resource Kit hilft IT Pros bei der Planung, Installation und Wartung von Office Installationen innerhalb ihrer Organisation.
Für den schnellen Überblick zum Thema Preview, Installation und Verwendung empfehle ich die Office Customer Preview FAQ.
Hier die gesammelten Infos zur neuen Office Release für IT Pros:
Viel Spaß mit Office Customer Preview!
Categories: Cloud, Microsoft, Social, MVP, Office365, Windows
Source: https://blog.atwork.at/post/Alles-neu-in-Microsoft-Office-Customer-Preview