Ja, es ist schon fast da: Bald kommt das Christkind und kurz danach: Der neue Windows Small Business Server 2011 Standard Edition gemeinsam mit Windows Small Business Server 2011 Premium Add-on.
Das schreibt Curtis Lee, Director, Server and Cloud Marketing, im SBS Blog Windows Small Business Server 2011 Standard Releases to Manufacturing.

Das Microsoft Produkt-Team ist in der Finalisierungs-Phase, ab Jänner 2011 wird SBS 2011 verfügbar sein:
"…We are finalizing international versions, delivering the product to distribution channels and handing it off to our OEM partners so that they can begin pre-installing the software on new servers. Starting in early January, you will find SBS 2011 Standard and Premium Add-On in volume licensing, and from mid-January you will be able to download a trial copy from our website…"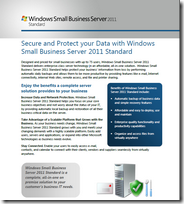 SBS 2011 ist die Lösung für KMUs bis zu 75 Benutzern und beinhaltet die neuesten Versionen von Microsoft Windows Server 2008 R2, Exchange Server 2010 SP1 und SharePoint Foundation Services 2010 (siehe auch Next Generation Small Business Server Aurora – Preview verfügbar).
Das Premium Add-on beinhaltet die letzte Microsoft SQL Server 2008 R2 Version und bietet Hyper-V und Remote Desktop Services der Windows Server 2008 R2 Standard Version.
Es wird einen Migration Path zum Update von früheren SBS-Versionen geben (erfahrungsgemäß zu mindestens supported für die letzte Version SBS 2008) um Ihren Kunden den Umstieg möglichst rasch und einfach anzubieten "…including ease of migration from earlier versions…".
Hier geht´s zur SBS next version Website und hier zu einer zweiseitigen SBS 2011 Broschüre. Freuet Euch, SBS 2011 kommt baaald!
Categories: Hyper-V, Microsoft, SharePoint, SQL Server, Windows
Source: https://blog.atwork.at/post/Windows-Small-Business-Server-2011-Standard-ist-RTM