Are you still thinking of ways to move to the cloud with certain services? Well, the Cloud economics site could help.
For working with the Azure cloud, Microsoft provides the Cloud economics public website with information how to get the most value from an Azure investment. Open it it at Cloud economics.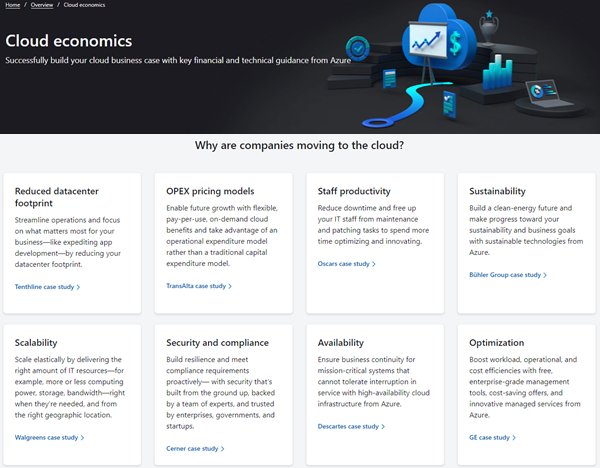 On the website, potential customers can find a bunch of information about key guidelines for common technical and financial considerations, and reasons, why companies are moving to the cloud in case studies. Also, there is a PowerPoint document with recommendations available to download at Financial and economic considerations for cloud migration.
To start a migration, the following four steps are recommended:
Optimize datacenter usage and costs: Identify wasted resources in On-premises costs like in the network, power, building, server and people resources.
Maximize cost savings with flexible cloud infrastructure: Eliminate the need for upfront investments in infrastructure and simplify finance operations.
Improve financial KPIs and metrics: Get more flexibility by reducing costs of maintaining high overhead and have more budget for critical projects.
Gain ongoing recommendations for cost optimization: Clean-up unused resources, use Azure resource tagging, Azure Advisor and Azure Cost Management and follow best practices in the post-migration process.
From our perspective, the Microsoft Cloud Adoption Framework for Azure (CAF) is also a fundamental part of a successful cloud migration project. This guidance can act as basis for a good use of Microsoft Azure from the beginning, and also after-the-fact to organize and to align workloads within an organization. As a company, we support you in developing and implementing your cloud strategy with the CAF. Just contact us for more information.
The Cloud economics information can can be start of a cloud migration project.The aim is to improve, simplify and support the financial processes and to drive the strategic alignment between IT and finance teams. Good start!
Categories: Azure, Cloud, English, Microsoft, Migration
Source: https://blog.atwork.at/post/Cloud-economics-resources