End of October, Martina and I have been at SharePoint days Conference (SPD) Slovenia. This was our first SharePoint conference in Slovenia in the beautiful small town of Bled which is just across the southern border of Austria. The location was very close from our home town Vienna (about 4 hours drive) and very close to our second home in Villach.
SPD Slovenia took place from 24th to 25th October 2016 at Hotel Kompas in Bled. IMHO, Bled is in maybe one of the most beautiful regions in Europe with a small lake and surrounding mountains. There were 5 tracks and about 50 sessions, presented in English, see more about this great event at SPD Slovenia.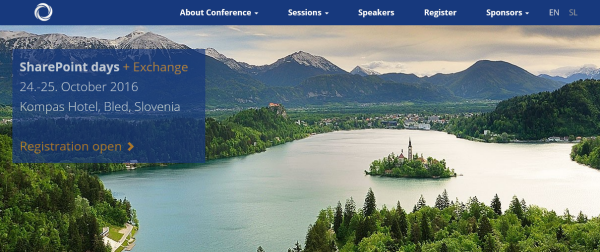 We met so many great speakers from the SharePoint community there, check out the full agenda.
Our sessions at SPD Slovenia:
On Sunday, right before the conference start, the event organizer Branka Slinkar and her team from Kompas Xnet organized a great tour for the international speakers to show them briefly the beauty of Slovenia. After lunch time we went by bus to Blejski vintgar. The Vintgar gorge is 1600 m long and till 250 m deep gorge on the eastern part of Triglav National Park which is stunning. Then we went to Lake Bohinj and with cable car to the upper cable car station of to Vogel Ski Center where we had drinks, a typical slovenian stew and apple strudel, before we went on a boat ride with an original historic electric boat from one part of the lake to the other. In the evening, the day was closed by a speakers dinner in Bled. Wow, what an agenda for our community. Many thanks for that, Branka, it was awesome!
See some pictures from our trip here and from the conference in this Sway.
We had a blast at SPD Slovenia. Thanks for having us and we hope you all enjoyed the conference!
Since we were traveling much in the last weeks, it took some time to publish the Sway and this blog post. Anyway, we hope you enjoy the photos!
Categories: General, Cloud, English, Microsoft, MVP, Office365, SharePoint, atwork
Source: https://blog.atwork.at/post/SharePoint-Days-Slovenia-2016