On Saturday, the 28th of May 2016, our second SharePoint Saturday Paris took place. Again, the organization team Patrick and Gokan arranged a perfect community event in one of the most beautiful cities in the world. We enjoyed Paris in May (before river Seine flooded the shores one week later), we even had a great speaker dinner on a boat on the Seine.
We also had the pleasure to meet with "Mr. SharePoint", Jeff Teper, Microsoft Corporate Vice-President OneDrive and SharePoint who delivered a keynote and spent time with the SharePoint community. So this event was amazing and special! More than 1.700 tweets sent - see the Twitter statistics by Jussi Roine.
Martina and I had the pleasure to deliver the last session before Jeff Teper's keynote about "Office 365 Connectors" and we were honored that Jeff joined us for our session.
Well, we would like to enclose a few more visual impressions from our side.
#SPSParis, thanks for this great event!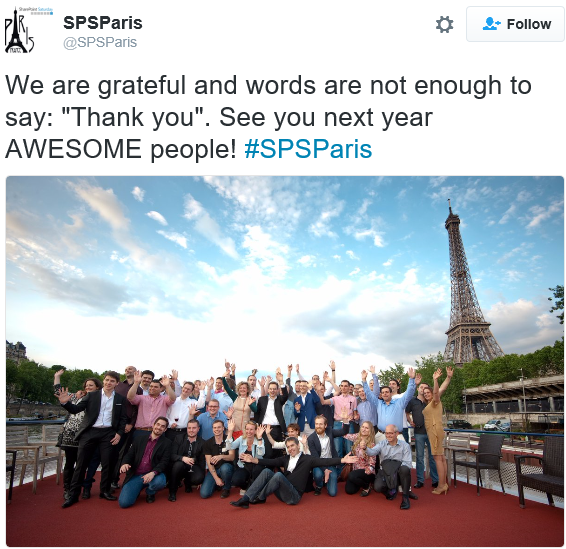 We hope to be part of your next community meeting again!
Categories: atwork, English, Event, General, Impressionen, Microsoft, MVP, Office365, SharePoint
Source: https://blog.atwork.at/post/Impressions-of-SharePoint-Saturday-Paris-2016