As announced, this Wednesday, on November 27th, 2019, the Global Office Developer Bootcamp took place at the Microsoft office in Vienna, Austria. See some event reflections here.
The world wide Global Office Developer Bootcamps 2019 (aka.ms/M365DevBootcamp) are following the success of the Developer Bootcamps 2018 held in 41 countries with over 3,400 attendees and it is now back for its 3rd year. The Bootcamps happen between October 1 to December 15, 2019. The idea is to share the latest and greatest technologies and products (Microsoft Graph, SharePoint Framework, Microsoft Teams, Office Add-ins, Connectors and Actionable Messages, Adaptive Card, Windows, Identity and more) on the Microsoft 365 platform. It was the first time we had the event in Austria.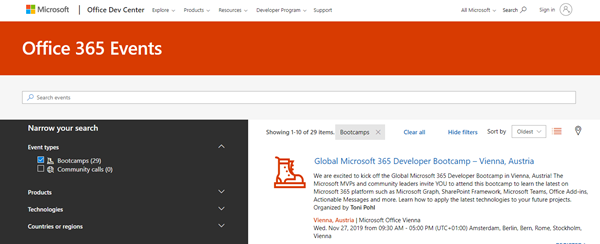 The agenda was as follows.
09:00 Check-in
09:30 Welcome and Overview - Martina Grom, Toni Pohl
10:00 Microsoft Graph news, Toni Pohl
10:30 Deploying ASP.NET Core Applications with Azure DevOps, Andi Pollak
11:00 Develop your custom Flow and PowerApps Connectors, Patrick Lamber
12:00 Lunch
13:00 Using the SharePoint Framework (SPFx), Stefan Bauer
14:00 Developing apps and bots for Microsoft Teams, Thomy Gölles
16:00 Q&A, Closing & Networking
See some snapshots here.
Find the summarized resources presented at the event in the GitHub repository at github.com/tonipohl/M365DevBootcamp-Vienna (to be completed in the following days).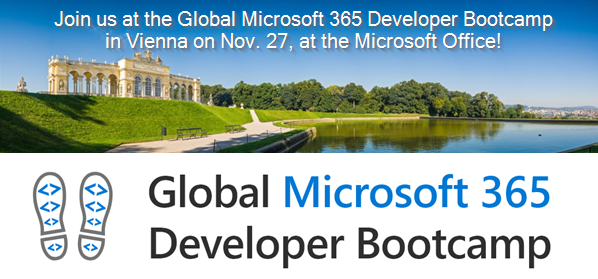 Thanks for your interest. Follow the speakers and their GitHub repositories and on Twitter for the latest news.
Happy developing!
Categories: Azure, Cloud, Developer, English, Event, Microsoft, MVP, Microsoft365, Office365, SharePoint, PowerApps, Microsoft Teams
Source: https://blog.atwork.at/post/M365-Developer-Bootcamp-Vienna-2019