And now for something completely different: Recently, I stumbled upon the article at qz.com: Your old laptop can live again for the cost of a USB drive. The idea is to boot the free Debian "Pixel" OS from an USB stick and to work in that slim and fast environment. So I tried it out!
PIXEL is a project of the the Raspberry Pi Foundation, see Introducing PIXEL. and get more details in the blogpost raspberrypi.org/blog: PIXEL for PC and Mac.
As Windows user I wanted to try it out. So here's my test.
Download and create a bootable USB device
First, I download the ISO file from downloads.raspberrypi.org/pixel_x86. I did a short research how to get the ISO image in bootable form on an USB drive and found Rufus to be a fast and easy way. Actually I don't like to install any unknown, not trusted software on my computer, but curiosity beats security… (don't tell my IT Admins ;). So I downloaded Rufus (the portable version) and executed it.
In Rufus, I selected the downloaded ISO file 2016-12-13-pixel-x86-jessie.iso in the "Create a bootable disk using…" file picker: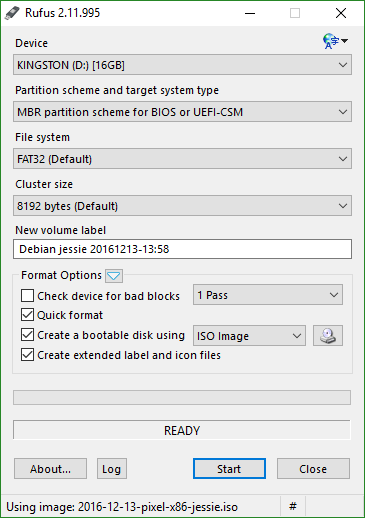 …and simply continued as recommend simply as Next, Next, Finish: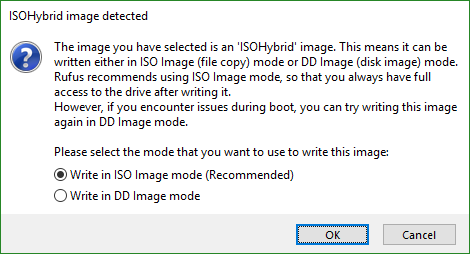 The ISO Image mode worked for me. Ensure that you delete the correct USB drive (if you have multiple ones plugged in):

Continue. After some time the process should be done: Close.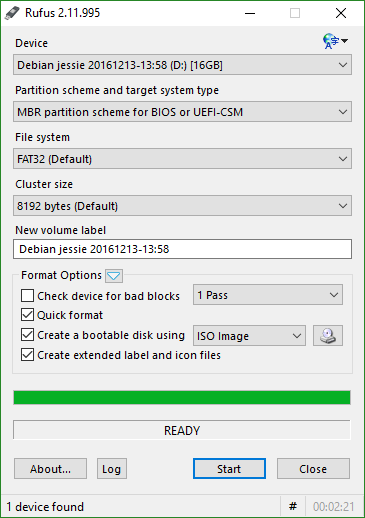 Check it
The file system on the USB drive then looks as here: About 1,29 GB are used on a FAT32 partition.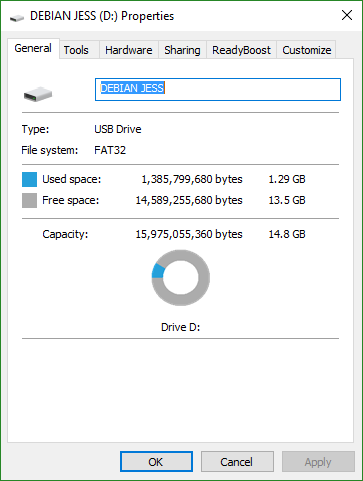 Just a quick view into the file structure or the root folder: Yes, it seemed to work, there's some data on the drive.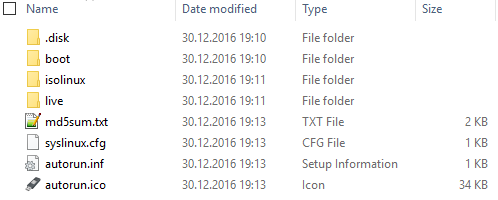 Ok, done.
Run it
Now it's time to try it out. I used an old HP PC, some machine about 10 years old, but with 4GB of RAM and I think with a Dual Core CPU. Plugging in the USB stick, booting from that and … tatataa. The Pixel Debian OS was starting from the USB stick without any issues. See some snapshots here (click to enlarge).
Saving data
When running from an USB drive, the Boot menu (when the "Debian (jessie) with PIXEL" screen appears, press ESC during the 5 seconds) provides options to run with or without persistence. This makes sense if you made any changes, as for example another keyboard layout, stored some files, or similar. See more in the source article at https://www.raspberrypi.org/blog/pixel-pc-mac/.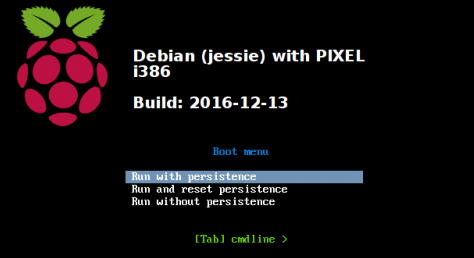 My quick summary
On that machine, the system feels relatively fast and fluid. I tested just some minutes. Definitely enough power to surf the Internet with the integrated Google Chrome browser. There's also Libre Office, Java, Python, some quick games and some tools installed. The assembly team did a good job.
So maybe not really a machine for daily work, but the whole thing is done in some minutes and absolutely worth a try for reusing an old computer..
Try it yourself!
Categories: General, English, Hardware, Open Source, Tools
Source: https://blog.atwork.at/post/Speed-up-your-old-notebook-with-Pixel