After we returned from MVP Summit, we were proud to be part of Microsoft Tech Summit from March 14th to 15th in Paris. The cost-free roadshow took place in Paris Expo Porte de Versailles and delivered two days of news and How-To's of the Microsoft cloud services. See some impressions here.
Beside the breakout sessions, Tech Summit provided experts panels, workshops, and booths to directly get in contact with the Microsoft teams and third party vendors and to ask questions. See more details at the conference website at www.microsoft.com/techsummit/paris.
We from atwork were glad to contribute with breakout sessions and a workshop along with speakers from Microsoft and some fellow MVP colleagues:
Build smarter apps with Office using the Microsoft Graph - Martina Grom, Toni Pohl, Etienne Bailly
Office 365 Developer Platform Overview - Martina Grom, Toni Pohl, Raquel Municio Perez
Workshop: Deep Dive into Microsoft 365 Intelligent Security - Martina Grom
Get a catalog of all available sessions at Tech Summit session catalog. We assembled some impressions of that event with some of our snapshots.
One of the session rooms – much better than the tents in Frankfurt

Martina's and John's Microsoft 365 Intelligent Security workshop on day #2 got full interest.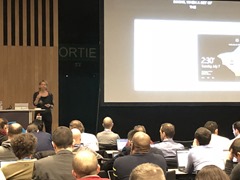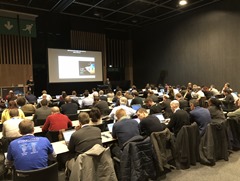 We hope you enjoyed the Microsoft Tech Summit roadshow event in Paris! We are looking forward to our last Microsoft Tech Summit event in Amsterdam on March 28 to 29, 2018.
Update: Check out Anna Chu's article in TechCommunity at Microsoft Tech Summit Paris Mar 14-15 2018!
Categories: Cloud, Azure, Developer, English, Graph, Microsoft, MVP, Microsoft365, Office365, atwork, Office, PowerApps
Source: https://blog.atwork.at/post/Impressions-of-Microsoft-Tech-Summit-Paris-2018