Today, a quick tip on an article about one of Microsoft's fastest growing companies: Helping power users to build business apps with low-code and no-code apps.
Helping regular folks build business apps
The article on protocol.com is about Charles Lamanna, who is corporate vice president of Microsoft Business Applications.
Charles Lamanna runs one of Microsoft's fastest-growing businesses: Helping regular folks build business apps
Microsoft's Power Platform strategy is to allow non-technical people to build applications for their team's needs with it´s Power Platform, which basically includes Power BI, Power Apps, Power Automate and other services out of Microsoft 365 and Dynamics 365, as the following graphics illustrates.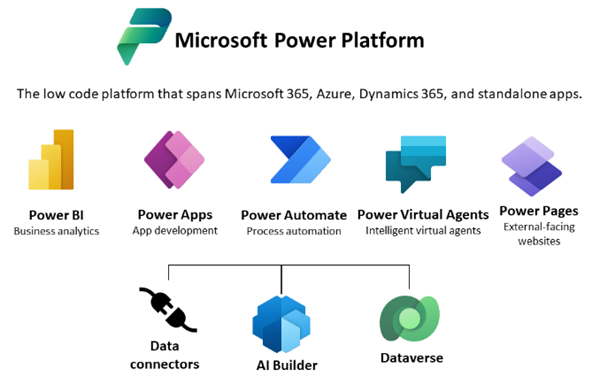 Picture source: What is Microsoft Dataverse?
Demand
According to the article - and this is the impressive part - Microsoft expects 500 million new apps to be built in the next half decade, which is more than all the apps built in the last 40 years. That´s a lot!
So there aren't enough developers who can code fast enough to build as many apps and flows as needed. Also, professional developers should focus on more difficult challenges than (approval) forms.
Underlining this and the business behind it, the protocol.com-article says, "…that business is Power Platform, which according to Lamanna has more than 7 million monthly active users, more than $2 billion in revenue and is growing at an astonishing 72% year-over-year…"
These are incredible numbers, and they also show why Microsoft is putting so much energy and resources into the Power Platform. Read more here:
Governance
As we and our customers use the Microsoft Power Platform to take advantage of the low-code development applications and processes, what about governance, security, and compliance?
Well, governance is critical to ensuring digital transformation. The organization and its IT must create boundaries to ensure data sources are used in a controlled manner and that assets remain compliant and secure. The solution to this is to implement a model that encourages innovation without exposing your organization to the risk of non-compliance.

We deliver such governance solutions, starting with concepts, best practices, tools like our Governance Toolkit 365, policies, monitoring, and other tools to support compliance processes.
If you are interested, contact us!
Categories: App, Cloud, English, Logic apps, Microsoft, Microsoft365, Power Platform, PowerApps, Serverless