The Cloud Hub Teams app is a business application that provides data from your Microsoft 365 tenant, the Message Center and the Incident Center, as well as the status and history of global Azure services. Since Microsoft recently announced the discontinuation of the Microsoft Service Communications API, all organizations using the Cloud Hub Teams app have to renew their app permissions once in order to be able to use the successor API functions. See how it works here.
Recently, Microsoft announced the retirement of the Microsoft Service Communications API (see Msg MC299902, Office 365 Service Communications API reference - The Microsoft Graph API replaces the Service Communications API). In the past, the Cloud Hub app was using the old API to retrieve it´s data for a Microsoft 365 tenant. This has been changed in the app in order to use the successor API functions with immediate effect.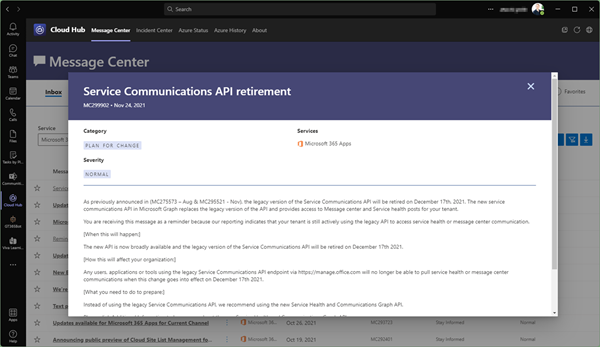 Therefore, it is required for all organizations that are using the app to renew the App consent as a Global Administrator. The app can only continue to retrieve data from a M365 environment if the new approval below has been done. This process only needs to be carried out once.
Ask a global administrator to click the consent link below and confirm the least privileges permissions for the Cloud Hub Teams App:
https://login.microsoftonline.com/common/adminconsent?client_id=b5d4e933-e001-4168-83f8-abdd974877bd
The new permissions are ServiceHealth.Read.All and ServiceMessage.Read.All. Please do it now and confirm the app permissions.
After that process, a webpage is shown to show the success. Once that's done, the app will work as before.
In case of questions please contact us. Thanks and enjoy the Cloud Hub Teams app!
Categories: App, English, Microsoft, Microsoft365, Office365, atwork, Teams
Source: https://blog.atwork.at/post/Renew-the-Cloud-Hub-app-permissions