Diesmal ein Tipp für alle "Virtualisierer": Microsoft Press hat das Buch "Windows Server 2008 Hyper-V Resource Kit" (Microsoft Press, 2009; ISBN: 9780735625174) veröffentlicht. Das Werk von Robert Larson und Janique Carbone ist 800 Seiten stark und kommt mit einer CD mit einer Fülle von Scripts in VBScript und Powershell daher, ebenso sind viele Links und Tools mit nützlichen Ressourcen enthalten.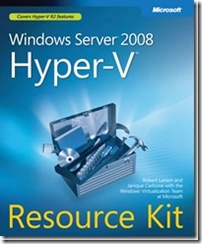 "The Windows Server 2008 Hyper-V Resource Kit is a comprehensive technical resource for planning, deploying, and managing virtualization infratsurctures based on Windows Server 2008 Hyper-V and Microsoft Hyper-V Server 2008."
Auf der Microsoft Press Seite gibt es das Inhaltsverzeichnis zur Voransicht. Ich hab das Buch auch schon bei Amazon.at (hier) gefunden. Für IT-Pros mit Hyper-V Background ein Must Have!
Beitrag von Toni Pohl
Categories: General, Hyper-V, Microsoft, Windows, Tools
Source: https://blog.atwork.at/post/Neues-Buch-Windows-Server-2008-Hyper-V-Resource-Kit