Delegate365 runs completely in Microsoft Azure, in a region of the customer's choice. So, for US-based companies, Delegate365 is hosted within the United States of America, for EU-based customers, Delegate365 is hosted within the European Union, etc. Since we sometimes get questions about the location of the Delegate365 solution, we want to inform about the hosting options here.
Delegate365 as a service
Delegate365 is developed and operated by atwork and runs as Software-as-a-Service (SaaS). Customers can test and use Delegate365 instantly without any installation out-of-the-box and updates to the Delegate365 tenant are done automatically. Delegate365 runs completely in Microsoft Azure without customers having to maintain the solution in any way. The customer's data never leave the desired region, except the customer exports his data intentionally. The hosting costs are included in the Delegate365 price. Thus, Delegate365 is delivered as a carefree package to be used instantly.
Availability of Delegate365 in Microsoft Azure
Currently, Microsoft offers Azure services in 54 regions worldwide, see Azure regions.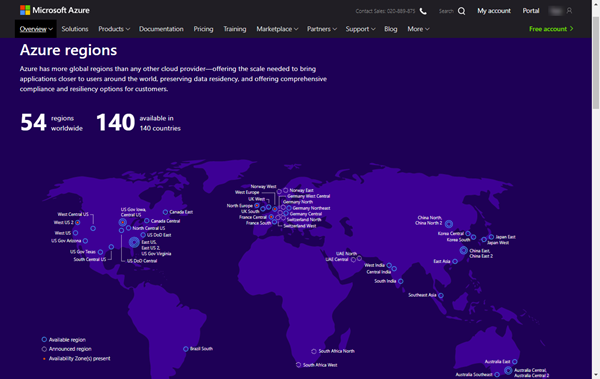 Out-of-the-box, Delegate365 works in all Microsoft regions that are not classified as "sovereign" or "national" cloud and that are currently available for customers, see regions and locations. The Azure datacenter within the region will be set as optimal as possible for the customer and the tenant. Delegate365 is currently available in the following regions:
America: East US, East US 2, Central US, North Central US, South Central US, West Central US, West US, West US 2, Canada East, Canada Central, Brazil South
Europe: North Europe, West Europe, France Central, France South, UK West, UK South
Asia Pacific: Southeast Asia, East Asia, Australia East, Australia Southeast, Central India, West India, South India, Japan East, Japan West, Korea Central, Korea South
Newly announced Azure data centers that can be used in the future:
Europe (starting 2019): Germany North, Germany West Central, Switzerland North, Switzerland West, Norway East, Norway West
Middle East and Africa (starting 2019): South Africa West, South Africa North, UAE Central, UAE North
The regions and availability of Delegate365 might change in future, depending on Microsoft's Azure availability, conditions and legislation.
National Azure Clouds
Besides the Microsoft operated datacenters, there exist national clouds, see Microsoft National Clouds. These are datacenters for the US Government, the Microsoft Cloud Germany and the Microsoft China Cloud as the Microsoft website informs:
The national clouds receive new Microsoft features and services at a later date, or not the full functionality. For example, see services that have recently been announced in national clouds as Announcing General Availability and Sovereign Cloud Support of Managed Service Identity for App Service and Azure Functions or at Power BI is now available in three separate national clouds.

Delegate365 is currently not available in national clouds. Based on customer's needs, that could be addressed in future.
End of life for Microsoft Cloud Germany – Hello, new datacenters in Germany
As Microsoft announced end of August in "Microsoft to deliver cloud services from new datacenters in Germany in 2019 to meet evolving customer needs", the existing Cloud Germany operated by T-Systems will no longer be available for new customers and will be replaced by two new datacenters in Germany located in Berlin and Frankfurt. These are planned to be available to customers in the fourth quarter of 2019 for Azure and in the first quarter of 2020 for Office, and Dynamics to follow later in 2020. Instead of reduced functionality (and different pricing), the new datacenters will offer "full connectivity to Microsoft's global cloud network" and will be operated by Microsoft.
"Based on this evolution in customers' needs, our cloud strategy for Germany will focus on delivery of the new cloud regions in Germany that are consistent with our global cloud offering. With this focus, we will no longer be accepting new customers or deploying any new services from the currently available Microsoft Cloud Germany. Existing customers can continue to use the current cloud services available today, which we'll maintain with necessary security updates.
… Based on this evolution in customers' needs, our cloud strategy for Germany will focus on delivery of the new cloud regions in Germany that are consistent with our global cloud offering."
Delegate365 is not available in the "existing" (old) Microsoft Cloud Germany. Of course, Delegate365 will be available in the new datacenters in Germany in future. Also, Delegate365 can be hosted in all new datacenters, as announced at Microsoft reveals plans for new datacenters in Europe and the Middle East, while expanding its cloud offerings.
Define the Delegate365 region
When customers are starting with Delegate365, they receive a form to define the desired Azure region for their Delegate365 instance. So, every customer decides where his Delegate365 solution shall be hosted worldwide. The region stays for the whole operating life of Delegate365.
We hope, this article clarifies the hosting options of Delegate365. We at atwork take security and privacy very seriously. In case of any questions about Delegate365, pls. contact us.
Categories: Delegate365, English, Microsoft, Office365, Microsoft365, atwork