Many users including myself love OneNote. It's quick and allows to store valuable but unstructured data very well. I wanted to change the storage location of my OneNote notebook from my personal OneDrive to OneDrive For Business. See the How-To here!
You get Microsoft OneNote for free at https://www.onenote.com/download. By default OneNote is persisting notebooks in the personal OneDrive cloud storage and syncs changes between the local client (if installed) and the cloud. That's ok for most scenarios and very convenient.
The goal: Availability
Since OneNote got more important for my daily life, I wanted to change the storage location. The reason behind that goal is that Microsoft provides an SLA with guaranteed uptime and backups in OneDrive for Business. See more at OneDrive for Business Service Description and at Microsoft online services SLA ("Service Level Commitment"). So, I wanted to move my notebooks that are stored in my OneDrive (OD) to OneDrive for Business (OFB). See more about the OFB service on the product website at OneDrive for Business.
Stumbling blocks
First, I thought much too technical: I wanted to download the OneNote file from OD manually and upload it again to the new OFB location. It's not possible to download the OneNote file directly from the web interface of OD (but you can download the folder as described here). When syncing, there's only a file containing the Internet shortcut to open the file with the OD web client:
[InternetShortcut]
URL=https://onedrive.live.com/redir.aspx?cid=<someid>&resid=<anotherid>&type=3
So it does not help to synchronize the folder including that file with the OD sync client.
But why think complicated? I looked in in the OneNote desktop client and there it is, easy to find:
How it works
You can simply move the OneNote notebook to another location with the OneNote client! Here are the steps:
Go to the File menu. Here's a list of your connected notebook with the storage path. you can clearly see what's stored where – in my sample I have a notebook stored in my Intranet ("Toni @ atwork…") and one stored in my OD ("TP"). Open the" Setting"s and go to "Properties" as here:
So I wanted to move the "TP" notebook. in the following dialogue, we are able to "Change Location…" of the selected notebook. Easy as that!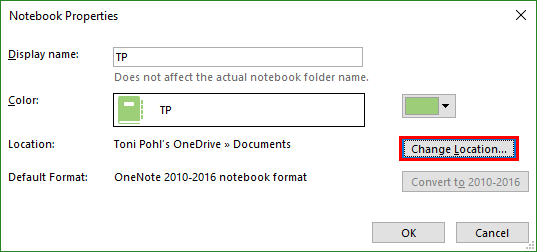 Now we can select the desired path. I wanted to have that notebook stored in my ODB as follows: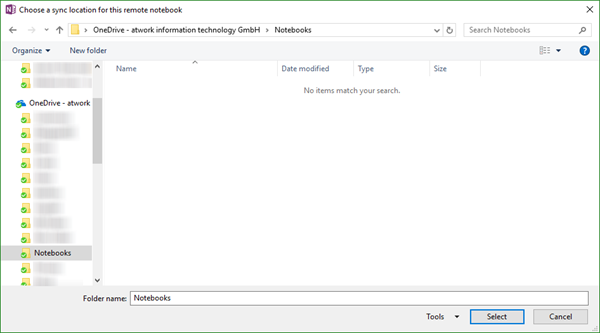 Here we go: OneNote is "syncing changes".
When the process is finished, we get a confirmation.
Check it
When checking the result of the operation, we now see that the "TP" notebook is stored in my ODB.
Mission accomplished. Easy going, or?
Remember to synchonize or update your OneNote notebooks on your synced devices as well.
Hope this tip helps to (re)organize your OneNote notebooks quickly!
Categories: Cloud, English, Microsoft, Office, Office365, SharePoint
Source: https://blog.atwork.at/post/How-to-move-your-OneNote-notebook-to-a-better-place