Ganz frisch zum Office 2010 und SharePoint 2010 Launch sind seit gestern das Office Developer Center und das ganz neue SharePoint Developer Center (vorerst in englisch) verfügbar.
Im SharePoint Developer Center wird eine Fülle an Informationen angeboten: What´s new, SDK, Get Started, Resource Center, Videos & Co – sprich: Alles, was man zum Entwickeln für SharePoint 2010 so braucht.
Ebenso sind im Portal die Trial SharePoint Server 2010, SharePoint Foundation 2010 (Nachfolger der freien Windows SharePoint Services - WSS) und SharePoint Designer 2010 downloadbar.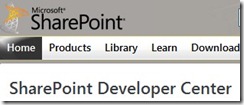 Das Office Developer Center liefert Informationen zu den Office-Produkten (Access, Excel, Outlook, PowerPoint, Project, Publisher, Visio, Word, und alle Produkte kombiniert…): What´s new, Solutions, Videos, VSTO-AddIns, Developer References und alles, was zum Entwickeln mit Microsoft Office dazu gehört.
Dort findet sich auch die Trial von Office Professional Plus 2010 zu laden.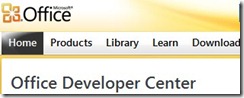 Im msdn-Blog von Erika Ehrli Cabral – sie ist mit ihrem Team für die Developer Center Webs zuständig - findet sich eine tolle Zusammenstellung ALLER LINKS zu den Developer-Center der Office- und Visual Studio Produktfamilie:
Office 2010 and SharePoint 2010 Launch: A Summary of Technical Content that Matters to Developers
Schauen Sie mal rein, in die nagelneuen Developer Center!
Categories: General, Microsoft, SharePoint, Developer
Source: https://blog.atwork.at/post/Neu-Office-Developer-Center-und-SharePoint-Developer-Center