Last week, our third IT/DevConnections conference took place in Las Vegas. We had the pleasure to have several sessions there.
The IT/DevConnections conference took place from 10th to 13th of October in the luxurious Aria resort that is located right in the middle of the famous Las Vegas strip. That's a very cool location for obtaining KnowHow transfer during the day and enjoying the nightlife of Vegas. Besides the networking at the conference, there were social events and parties.
We enjoyed the location in Aria Hotel very much and it was very convenient to stay there and walk to the conference center. As far as I know there were more than 100 speakers and about 1.200 attendees. The conference had 5 technical tracks and 1 sponsor track.
See all the sessions of IT/DevConnections here. Martina and I were presenters at these sessions:
All sessions have been recorded and will be available for conference attendees within the next two weeks for about a year.
Se here's some visual impressions and snapshots from the conference and from around the event.
Besides Martina and me from Vienna, atwork germany and some customers also joined the conference.
And we had some nice parties. Our partner ENow threw a party at the roof top Ghost-Bar at the Palms Hotel with a stunning view over the city of Las Vegas. We met a lot of colleagues and amongst the Exchange community @ExchangeGoddess and more.

Also there have been parties for all conference participants, VIP parties and sponsor parties.
As always, the conference days have passed quickly. At the end, a raffle took place where Rod Trent acted as presenter of the prizes.
It was awesome to speak at IT/DevConnections and we had a lot of fun there. Next year, the conference will take place from 23th to 26th of October 2017 in San Francisco.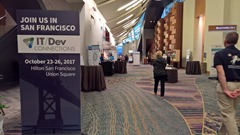 CU there?!
Categories: General, Cloud, English, Event, Impressionen, Microsoft, MVP, Office365, atwork
Source: https://blog.atwork.at/post/Recap-and-impressions-of-ITDevConnections-2016