Have you seen it? Now it´s possible to delete Azure Active Directories from the Azure Portal! Just discovered this (long expected) feature shortly.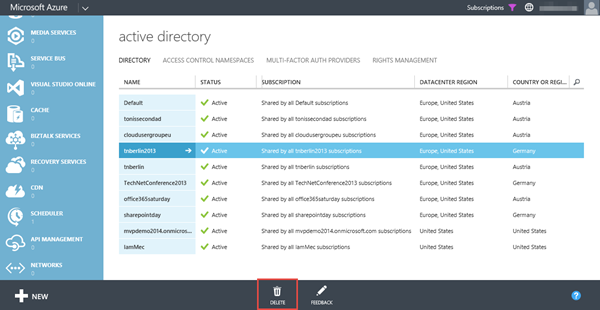 Just an important information about deleting…
When selecting an AD (mark the corresponding line right of the name…) and clicking the "Delete"-button… you maybe get a message like:
The following issue(s) prevent deletion of this directory:
Directory has one or more Multi-Factor Authentication providers.
You are signed in as a user for whom '*.onmicrosoft.com' is the home directory
Directory is a "Partner" directory.
Directory has never had an Azure subscription.
Directory has one or more subscriptions to Microsoft Online Services.
Directory has one or more applications.
Directory has one or more applications.
Delete all users except yourself

To see the requirements for deleting an Azure AD see Delete AD - Conditions that must be met to delete a directory : … The only user in the directory is the global administrator who will delete the directory.
Make sure that all objects in Azure AD (except your own user) are deleted!
So check (and delete) all users, groups and applications in that AD!
Delete all users (except yourself) – so simply delete all users where the "Delete" button is visible.

…also all groups and all apps!

The try to delete th AD: Now it should work!

Done. Finally I can tidy up my Azure portal…

Categories: Azure, Cloud, Microsoft, English
Source: https://blog.atwork.at/post/Delete-Azure-Active-Directories