If you are a Microsoft 365 developer, you will be working with the Microsoft Graph to access data in the cloud. Of course, every product needs a mascot. So, the Microsoft Graph team created their own mascot: Welcome, Microsoft Graph g-raph (giraffe). Get the artwork for the Microsoft Graph g-raph here!
For me, the g-raph is a very cute and perfect visualization of "connecting the dots" within the Microsoft 365 services with Microsoft Graph technology.
As Jeremy Thake, Principal Program Manager in the #MicrosoftGraph team, recently wrote on Twitter, they ran out of stickers at #MSBuild conference, see https://twitter.com/jthake/status/1128699954707361794. So, the team made the artwork available for everyone to use.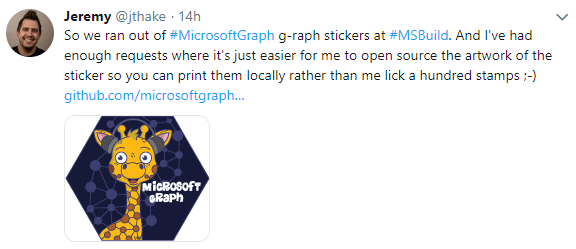 The mascot can be used to print your own stickers to hand out to the community. As pretty as the giraffe is, please note: Please do not modify the sticker in any way and print as is.
So, get the graphics in various file formats from GitHub.
Perfect for developers. And cute!
Categories: Azure, Blog, Cloud, Developer, English, Microsoft, Microsoft365, Office365, Graph, Social