Today, the Microsoft 365 Training Day for Security and Compliance took place at the Microsoft Office in Vienna. Microsoft 365 experts Martina Grom and Klaus Harrer-Nemecek provided information on the cloud security strategy and security implementation for the Modern Workplace. The interest was huge.
The event was aimed at IT professionals, IT decision makers, security managers, legal and compliance managers and officers, and compliance consulting and technology partners. After the opening by Hermann Erlach, COO Microsoft Austria, our CEO Martina held the security keynote. Then the event was split into a teams and a safety track. Klaus, Security Technical Specialist at Microsoft Austria, filled the morning sessions about Microsoft 365 Security and the building blocks at a glance, Identity, and Information Protection. In the afternoon, Martina, MVP Office 365 and Microsoft Regional Director, held a workshop about the Security Immersion Experience (SIE) in Microsoft 365. See the event details here.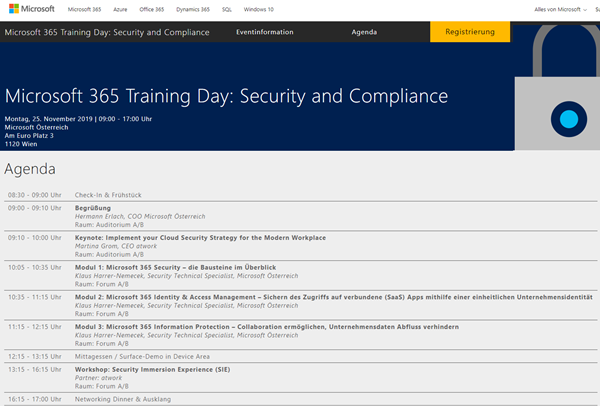 There was so much interest that unfortunately not all attendees got a seat, but it worked for the keynote. See some impressions in this Sway here.
Hope all attendees had a good and interesting event and got ideas how to improve their security with Microsoft 365!
Reminder: This Wednesday, we´ll have our Global Microsoft 365 Developer Bootcamp in Vienna. The registration is open till tomorrow.
Categories: Azure, English, Event, Microsoft, MVP, Microsoft365, Office365, Security, Governance, atwork
Source: https://blog.atwork.at/post/Microsoft-365-Training-Day-Security-and-Compliance