A lot has changed in our (remote) workplaces and especially in the past year. But the importance of inclusion and diversity hasn't gone anywhere. And neither has the joy and power of recognizing the total value of everyone on your team.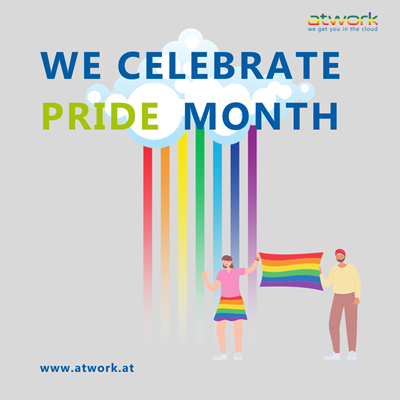 At atwork, diversity and inclusion are in our daily life. Everyone should be treated equally and with respect. These are the foundations of our modern society. We want to show our sympathy by adapting our atwork logo on the website, on our blog and on our LinkedIn page to the rainbow colors. We support Pride and the LGBTIQ community with the motto "Join us. March with us. Together & Proud." It's important to celebrate Pride in the (remote) workplace because we need to acknowledge and recognize the accomplishments of the gay rights movement and our LGBTQ advocates.
For this reason, we have 5 simple ideas for celebrating Pride month in your (remote) workplace:
1. Get educated with events, books, or podcasts, such as Vienna Pride or queer einsteigen Podcast or the book Invisible Women

2. Integrate inclusivity into your core-values, like we do at atwork

3. Recognize and reward everyone's performance via Microsoft Yammer

4. Create opportunities for conversations, f.e. a unique Microsoft Teams Diversity Community

5. Use Service Design approaches to design for accessible and inclusive services for heterogeneous users, our recommendation is this book This Is Service Design Doing


What are you doing to raise awareness concerning diversity and inclusion?
Get started now, and Happy Pride Month!
Categories: General, atwork, Event
Source: https://blog.atwork.at/post/Celebrating-pride-month-in-workplace