In the last couple of weeks I did a lot Windows Intune POC's with Demo Customer environments. Windows Intune is a great tool for mobile device management, you can add Windows Devices as well as your Windows Phones and iOS Devices. Mobile Device Management made easy, so you can manage your devices.
To setup Mobile Device Management you have first decide what the authority of your Mobile Device Management is. Since I am a public cloud addicted, I use Intune the plain way. Of course you can also configure it together with your System Center infrastructure. After you have set that you can now start configuring your Mobile Device Management.
If you want to add your mobile devices you've to name a management server. In most cases I left it how it was, enterpriseenrollment-s.manage.microsoft.com. Some customers prefer to add their own domain and that's what today's article is about.
The Technet Documentation describes to add a CNAME record for your domain and afterwards verify it. As someone who knows DNS I thought Intune won't care, which name my CNAME record has, the only important thing is the correct endpoint which is enterpriseenrollment.manage.microsoft.com. So here is the first thing to be aware of: If you add your mobile device manually you have to use enterpriseenrollment-s.manage.microsoft.com. If you try enterpriseenrollment.manage.microsoft.com you cannot add the device.
So I set a CNAME for mdm.contoso.com to enterpriseenrollment.manage.microsoft.com. Try to verify it: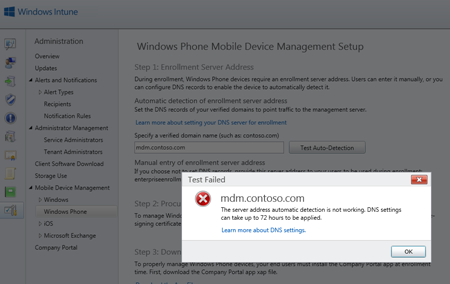 Why? nslookup shows that everything is correct. So I tried to do it as Technet says:
enterpriseenrollment.contoso.com to enterpriseenrollment.manage.microsoft.com
Verification fails again. The trick is:
Add the CNAME record for contoso.com to enterpriseenrollment.contoso.com. To verify that, simply verify it with the root domain and everything works.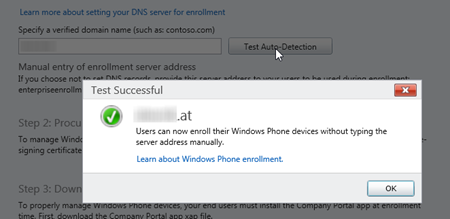 Have fun using your own Domain in mobile device management.
Categories: Office365, Windows, Mobile, Intune, Cloud, English
Source: https://blog.atwork.at/post/Windows-Intune-add-your-custom-enrollment-address-for-your-mobile-device-management